Tune in to Happy Hour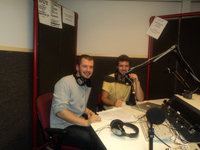 Every year in September, the University of Groningen welcomes large numbers of international students, who will be making Groningen their home for a six-month to four-year period. This year alone, about 1,400 international students came to Groningen. Do these students just keep to themselves and devote all their time to studying? Or do they mingle, establishing a bond with the locals and the city as a whole?
Recently we spoke to Ivo Dimchev from Bulgaria, who spends his Monday evenings bringing Dutch news to English listeners via local radio station Happy Hour FM.
What do you study and why did you chosse that particular programme?
Currently, I am doing my Masters in 'International Business and Management'. I chose this programme because – and this may sound like a cliché – I believe it will give me the opportunity to travel, to explore new things about myself and the world around me, and of course to meet many interesting people.
How has your experience in Groningen been so far?
I have been in Groningen for about a year now and there is nothing I can complain about (apart from the weather of course!). So far, it has been an amazing experience. I am doing things I have dreamt about doing my whole life!
If you could do things over again, would you still come to Groningen?
I most definitely would! I would not even for a second consider any other place.

What do you do at Happy Hour FM?
I am pretty much involved in everything that goes on at the station: from searching for guests for the show, selecting music and presenting live radio, to promoting the station and assisting with the technical side of things.
Why did you decide to get involved with Happy Hour FM, and what other activities do you participate in?
I have always wanted to work in radio, thinking it must be an amazing thing to do. So when the opportunity came along, I seized it! And I have no regrets – everybody at the station is really friendly and positive and the whole process is a fun experience. Besides my job at the radio station, I am also a drummer with a local band called "Priceless Camels".
What do you hope to achieve?
That's a tough question... I just hope that someday, when I think about the past, I will be smiling. As for the rest, time will tell.
What has made your experience here unique?
The kind people I have met. I will take many happy memories home with me, but one stands out: I remember arriving home late last year, after having had a bad day. Because of that I had missed the international dinner at my student house (the Moesstraat House). But as it turned out, my housemates had saved me some food. They had put it in my fridge, together with a kind note. I thought this was a truly heartwarming gesture, especially since we were not yet that close, having known each other only for a short period of time. As I said before: people are kind!
Any comments or a final word?
We can do anything we want!
www.happyhourfm.com
| | |
| --- | --- |
| Last modified: | 17 March 2020 1.40 p.m. |