No Guts no Glory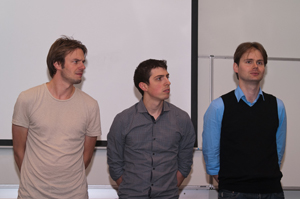 'Do we shoot the deer or each other?' I hear. Am I having a bad dream? No, I'm not. Neither am I in a forest or on a film-set. And I'm not holding a gun in my hands either. Where I am? I'm in the Academy Building, attending the introduction event of American Studies.
Chad, Kees, Thomas and Tom of the improv comedy group Stranger Things Have Happened, are visibly enjoying performing for the audience of first-year students. The humour, the witty retorts and the rapid speed with which the scenes are played, showcase what improv comedy is all about. The students are impressed, and so am I. Afterwards I talk to Kees de Vries, one of the founding members, who is eager to share his stories about what he regards as his brainchild.
Guts
It all started with a group of students of the University of Groningen regularly meeting each other at Guts, the theatre society of the English department at the Faculty of Arts. In 2009 this group decided to take their acting to the next level and Stranger Things came into life, consisting of semi-professional actors; all of them students, alumni or PhD-students with a passion for acting.
'Our first official performance – about the history of science – took place at the Groningen event "Nacht van Kunst en Wetenschap",' says Kees. The event turned out to be a success, as did Stranger Things' performance. Inspired by this success the group decided to stay together, and to search for a permanent location to host their shows. This was found in O'Ceallaigh Irish Pub. Initially performing for smaller audiences – 'I once performed for an audience of only thirteen people,' Kees remembers – the group nowadays attracts a much larger crowd. These days performances for a packed pub are no exception.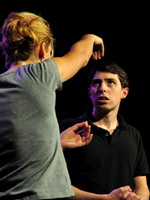 Glory and the empowerment of a rubber duck
The group's mascot, a rubber duck, is a regular feature in every show, and has been from the very beginning. 'This silly object is very usable in our acting as it is recognizable to everyone,' explains Kees. And recognition is exactly what you need when you are acting. 'We want to amuse our audience and recognizable scenes obviously get the biggest laughs.' In improv comedy it is vital for the actors to listen to one another and to respond in an unexpected way; it's a game of action and reaction.

Apart from hosting their regular Monday-evening show at O'Ceallaigh, Stranger Things also is the resident theatre group of the USVA, the cultural centre for students. 'We are booked for performances at least a few times a month as well. Highlight being a performance at the "Museumnacht" in Utrecht this October,' says Kees. Furthermore, Stranger Things offers courses and workshops to those who want to try their hand at improv comedy themselves.
North
Latest addition to their activities is the filming of the sitcom "North", of which member Thomas Mook is the founding father. The sitcom, about the daily life of international students in Groningen, premiered last spring. The premiere proved to be successful, for thanks to generous donations from an enthusiastic audience and by courtesy of the production team, six more episodes could be recorded. The final recording was completed this summer. Hoping to one day have the series broadcasted on television, Stranger Things is now waiting for a broadcasting company to come along, willing to schedule it.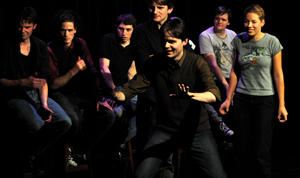 Stranger Things will happen...
As far as the improv comedy side of their activities is concerned, the team is pleased with how things are going at the moment. 'Yet, we are already planning for the future. During our first season we were mainly busy setting everything up. Last year we focused on keeping everything up and running, and this year we will be aiming for growth. We want to keep on expanding our activities. At the moment we are developing a new comedy format: a forty-five minute show, entirely built around only one suggestion taken from the audience,' says Kees. 'We also would like to write our own plays in English, and we are thinking about putting together a Monty Python-like sketch group. Finally, the enthusiasm after making "North" resulted in the ambition to make a movie. At the moment, pitches are being held.'

But the listing of their plans doesn't end there, or in Groningen for that matter; the desire to go abroad is strong. Stranger Things is hoping for a place at the "Edinburgh Festival Fringe", the largest art festival in the world, next year.
To conclude, I wish Stranger Things the best of luck for the future; may their ambitions be fulfilled. For after all: no guts, no glory…!
| | |
| --- | --- |
| Last modified: | 17 March 2020 1.35 p.m. |