Spring 2011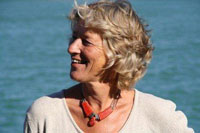 Alumna Renske Mast: general practitioner on the Greek island of Samos
The farther away I live and the older I get, the more I feel the need to reconnect with my past. I've worked as a general practitioner for 25 years now, 15 of them on the Greek island of Samos. I doubt I'm the only one who thinks back to their student days and gets back in touch with people and institutions important to them at the time. Studying is more than just learning how to make a living – it's also about finding the path to your future life. It's fun and useful as well to look back every once in a while at how it all began. That's why I wanted to write something for the international newsletter of my alma mater, the University of Groningen.
Video: meet the former and the new Rector of the University of Groningen
Being Rector of the University of Groningen can be exciting as well as exhausting. This is what both the new Rector of Groningen and his predecessor have told us. On 1 March 2011, Professor Elmer Sterken was officially appointed as the new Rector of the University. In this video Professor Sterken and his predecessor Professor Frans Zwarts express their opinions about being a Rector and the many topics they deal with on a daily basis.
Love by degree: alumni find love in the heart of Groningen
Many alumni not only gained knowledge but also a partner during their studies in Groningen. A surprising 7,000 alumni (almost 10%) are married or live together with another University of Groningen graduate. As February is the Valentine's month, our alumni around the world have shared their love stories with us in the Facebook contest Alumni find love in Groningen. We congratulate the winners!
First place: Geeta Thuraisingam from Malaysia (MSc International Business, 1999), "We plan to celebrate our 25th wedding anniversary in Groningen where we found love without barriers" > read the story
Second place: Jerome E. Wirawan from Indonesia (MA International Relations & International Organization, 2010), "We are busy organizing our wedding this autumn" > read the story
Third place: Yuqin Lu from China (MSc Business Administration, 2009), "He (a boy from northern Europe) and she (a girl from southern China) had nothing in common until the summer of 2007" > read the story
Groningen astronomer Amina Helmi joint discoverer of new stellar stream in the Milky Way
An international team of astronomers, including Groningen professor Amina Helmi, have discovered a new stellar stream in the Milky Way. The 'Aquarius stream' has been named after the Aquarius constellation in which it lies.
The stellar stream is the remnant of a dwarf galaxy in our immediate galactic environment, which was pulled apart about 700 million years ago by the gravitational force of the Milky Way. The discovery was made within the RAVE project, which is determining the characteristics and speeds of 250,000 individual stars.

Breaking ground: Life Sciences and Service Desks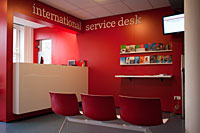 An inspiring work environment and good access to broad facilities are essential conditions for work and study. In order to achieve this, the University of Groningen is continually breaking ground: building and redesigning university locations and creating new facilities for its students and staff. In this issue:
Life sciences building: Some people call it 'a body emerging from the ground, raising itself and thus creating an archway', others see it as 'ski ramps connected by a big bridge', but impressive it is. > give this brand-new building a closer look
New service desks: Having problems - no problem! The answers to nearly all questions can now be found on the first floor of the Academy Building. > read more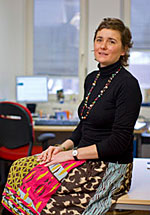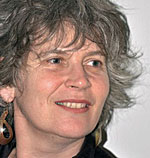 Opening up a world of language: an interview with Anje Dijk, Director of the University Language Centre
What started out in the 1980s as a one man band relying on the help of a few freelancers has blossomed into an organization employing almost 100 teaching, translation and administrative staff. Today, the centre teaches courses in more than 25 languages as well as running its own successful translation department. > read an interview with Anje Dijk
Large Newcastle delegation visits Groningen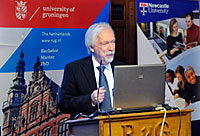 In early January, the University of Groningen welcomed a delegation from Newcastle, UK, comprising sixteen representatives of Newcastle University and Newcastle City Council. The visit follows on the visit paid by a University of Groningen delegation to Newcastle in early June 2010. Groningen and Newcastle-upon-Tyne became twin cities shortly after the Second World War.
Chemist Kees Hummelen in worldwide Materials Science Top 10
The Groningen solar cell researcher Professor Kees Hummelen is among the top of his field. He is ranked 7th in the Times Higher Education's international ranking list of researchers who have published in the field of materials science over the past ten years. > read more
Momentous signature marks the start of the Groningen Confucius Institute
Meeting the rising interest in China in the northern Netherlands, while bolstering the economic relationship between the two countries, is the main reason for the foundation of a Groningen Confucius Institute. Although there are hundreds of Confucius Institutes all over the world, Groningen is only the second Dutch city hosting a Confucius Institute, alongside the city of Leiden. The newly established institute will organize activities for people with a cultural interest in China as well as for companies wishing to do business. > read more
Ina Hofstee, International Staff Advisor, about the new information centre for international staff
The University of Groningen is proud of the increasing numbers of international staff: more than 1,200 staff members are from abroad. The University has therefore set up a special information centre for international staff: 'Staff@rug.nl'. Worldwide Newsletter visited International Staff Advisor Ina Hofstee to find out more. > read more
Debra Trampe in the New York Times: "Beauty products ads make women feel ugly"
Advertisements for products intended to enhance women's beauty can make women actually feel worse about themselves. This valuable marketing knowledge was discovered by researchers Debra Trampe, Diederik Stapel and Frans Siero. Their upcoming publication triggered the New York Times to publish an interview with assistant professor of marketing and research leader Debra Trampe of the Faculty of Economics and Business.
Four University of Groningen alumni in Dutch government
Four alumni of our university have been appointed to the position of State Secretary in the Dutch government: a coalition cabinet led by liberal Prime Minister Mark Rutte, who took office in October 2010.
Henk Bleker: State Secretary for Agriculture and Foreign Trade (PhD in Law, 1984)
Halbe Zijlstra: State Secretary for Education, Culture and Science (degree in Sociology, 1996)
Paul de Krom: State Secretary for Social Affairs and Employment (degree in Law, 1987)
Joop Atsma: State Secretary for Infrastructure and the Environment (History, 1974-1978)
| | |
| --- | --- |
| Last modified: | 17 March 2020 1.28 p.m. |