Having problems? No problem!
New Service Desks in the heart of the Academy Building
The answers to nearly all questions can be found on the first floor of the Academy Building. This is where both the University Student Desk (USD) and the International Service Desk (ISD) are now located. The two strikingly designed information desks for Dutch and international students and staff are placed directly opposite each other, divided by a shiny plaza.
Enabling students and staff to quickly access all the information they need has been the main goal of this relocation. The ISD and USD help international and Dutch students and staff find their way through the plethora of rules and regulations related to everything from registration to immigration.
In February 2011, the brand-new plaza accommodating the two desks was officially opened. The expert staff gave their colleagues useful insight into their extensive knowledge by means of an entertaining quiz, followed by a guided tour around the new facilities.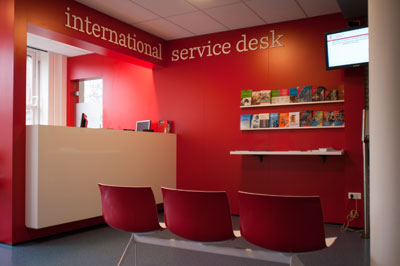 | | |
| --- | --- |
| Last modified: | 16 March 2020 4.55 p.m. |