Putting down roots
Gregory Ashworth (Glasgow, 1941*), connected with the University of Groningen since 1979, is a world renowned researcher in his field of expertise: management of cultural heritage, urban tourism, urban planning, city marketing and leisure management. In 1994 he was appointed Professor of Heritage Management and Urban Tourism at the Faculty of Spatial Sciences of the University of Groningen. Although he retired in 2006, he still is a keen ambassador for the Faculty, the University and the city of Groningen.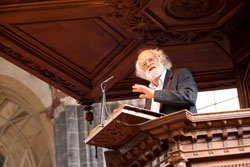 Welcome
On a sunny August morning he welcomes the newly arrived international students during the Welcoming Ceremony in a packed Martini Church:
"You're very strange people. You chose to do the university the difficult way, by going to a strange place, with people eating strange food. You'll notice you'll be going through a few stages while you're in the Netherlands: Stage 1 - Euphoria: you see all the things that are better here than where you are from. Stage 2 - Disappointment: You see all the things that are worse here than where you're from, the wind is always in your face and the rain goes horizontal! Stage 3 - Balance: Some things are better; enjoy them, some things are worse; ignore them. You're going home soon. You're here to learn where you come from. You're being forced back to question your assumption. It's a voyage of discovery into yourself."
The unique and captivating atmosphere Ashworth manages to create, make that his words impress even more. He holds the audience spellbound and the students I talk to afterwards, unanimously praise his speech.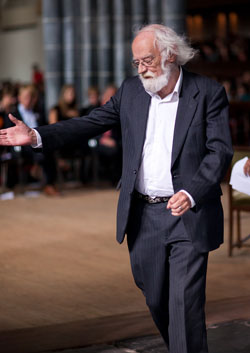 Coincidence
The fact that Gregory Ashworth ended up in the Netherlands is entirely coincidental. His then supervisor pointed out to him a job advertisement in a local paper, stating that one of the faculties of the University of Groningen had a vacancy for a position as urban geographer. 'At that time – 1979 – the University of Groningen was an isolated and old-fashioned institution, in the sense that it had no knowledge of the international world.
The Faculty of Spatial Science, however, was visionary to be recruiting staff from abroad.' The Faculty proved to be a pioneer in the field of internationalization: 'We were the first to establish an exchange programme with Eastern Europe, which was then quite revolutionary. Nowadays we are involved with international programmes such as the Erasmus rogramme Tempus * .'
Our University has only over the last ten years become globally competitive – 'Today, international research is being given much more attention,' says Gregory – whereas the English universities already saw the need for that back in the eighties.
He characterizes our University as being hierarchic, old-fashioned and traditional, characteristics he regards to be a great asset. 'A university like ours, steeped in tradition and ceremony, is hard to find in this day and age!' he says.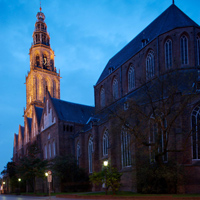 Groningen
Gregory Ashworth seems to be inextricably linked to the city of Groningen. Yet, he started his life in the Netherlands in the province of Friesland, where he felt very much at ease. 'Friesland is very hospitable, independent and flexible,' he says. A province that does not seem to fit into a country he would later come to describe as being bureaucratic with its many rules and regulations. Another thing he has had some difficulty getting used to – in fact, is still not used to – is the food. 'Raw herring, "Groninger bitterballen", I find them awful. Luckily, one can buy Belgian beer here.'
These days he lives in the city of Groningen, a city he has grown very fond of. So much so, that he dreads the day the planned high-speed connection with the western part of the country comes into operation. 'That connection will be the death sentence for Groningen. The moment the western part of our country is practically on our doorstep, with the Amsterdam Concert Hall just around the corner, some of Groningen's cultural institutions will probably have to close their doors. Groningen is best kept secret.
One of a kind
What's special about Groningen is that it's unique. It's a good size city, with plenty going on. However, its citizens seem not to be aware of this uniqueness, considering their city to be an ordinary one.' But Gregory Ashworth will never take Groningen for granted. He has travelled the world many times over, yet he confesses he only feels truly at home in Groningen. 'Groningen is my city,' he says.
* Gregory Ashworth passed away in November 2016.
* red. Tempus supports the modernization of higher education and creates an area of co-operation in countries surrounding the EU (the Western Balkans, Eastern Europe and Central Asia, North Africa and the Middle East).
| | |
| --- | --- |
| Last modified: | 16 March 2020 4.45 p.m. |