Alumna Renske Mast: general practitioner on the Greek island of Samos
'One's alma mater should actually be a lifelong connection to the academic world and science'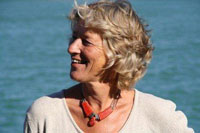 The farther away I live and the older I get, the more I feel the need to reconnect with my past. I've worked as a general practitioner for 25 years now, 15 of them on the Greek island of Samos. I doubt I'm the only one who thinks back to their student days and gets back in touch with people and institutions important to them at the time. Studying is more than just learning how to make a living – it's also about finding the path to your future life. It's fun and useful as well to look back every once in a while at how it all began. That's why I wanted to write something for the international newsletter of my alma mater, the University of Groningen.
How did I end up in Groningen?
Ending up in Groningen was more or less by accident. When I was 17, I enrolled with the medical faculty in Groningen, but also to the one in Maastricht which at the time had just been set up, as well as to a degree programme in Wageningen called 'Agrarische sociologie van de niet-westerse landen' (Agricultural sociology of non-Western countries). The ballot system at the time meant I ended up in Groningen.
Memories of my student days
In retrospect, I think Groningen is the ideal city to study in. It's not big enough to lose yourself in – either literally or figuratively speaking – and still big enough for plenty of interesting activities, friendships and people to meet. At the medical faculty I enjoyed helping to organize the introduction days for prospective students and first-year students who had just begun their degree programme. I was a member of the 'basisgroep geneeskunde' (medical base group) and was active in the MSFG (Medical Students of the Faculty in Groningen), as result of which I sat on the Faculty Council. A very special part of my internship was a three-month tropical stay. I was the guest of a medical officer and his family in western Kenya, where I worked with him in a tiny clinic.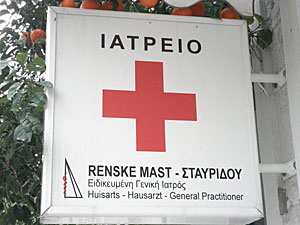 After completing basic medical training I went on to study General Practice Medicine, also in Groningen. When I qualified as a GP in 1984 unemployment was extremely high. I finally managed to land a job in Lelystad as a GP for the municipality for 10 hours a week. I ended up working at the Waterwijk healthcare centre in Lelystad for five years. Since my appointment could never grow any further than a 50% one there, I went out looking for a full-time practice once the market reopened. I found one in Purmerend, at the Molentocht healthcare centre. I enjoyed working there in the five years which were to follow.
While on vacation on Samos (one of the men remodelling our building warned me: 'Watch out for Greek men') I met my husband. This led to my moving to Samos in 1995. And ever since I've been living and working in Pythagorion, the birthplace of Pythagoras and vacation island for Antony and Cleopatra.
We set up a tiny practice in an old record shop which has slowly grown over the years into the present-day practice.
Differences between the Netherlands and Greece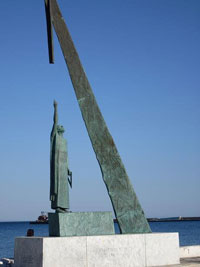 Having worked in the Netherlands as a GP for ten years means that I can really see the differences with Greece. It meant a medical culture shock for me: there were huge differences concerning cooperation, computer technology, communication with patients, providing information, medication supervision, home care, physiotherapy and mental healthcare. Other phenomena new to me were the 'envelopes' – the under-the-table money patients would bring but which pharmaceutical companies also had a hand in (offers of a trip to the Netherlands, a computer or laptop, etc.). Some health insurers still require me to write out my prescriptions in triplicate using carbon copies. There is no consultation with other health professionals, no first-line practitioners, no feedback from specialists at hospitals to whoever refers a patient. The result: patients at loose ends, who often have all sorts of lab tests and imaging tests done without the say-so of any doctor. Many of the patients I see have come for a 2nd, 3rd, 4th or even 5th opinion.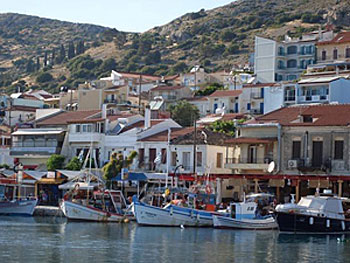 Life on Samos
Life on Samos is much more laid-back than in the Netherlands. In the summer, my office hours are followed by a swim, lunch with my husband and a midday nap. Then I'm bright and fresh for the second set of office hours in the evening. After those and any rounds I might have to do, there's often enough time to have a drink at an outdoor cafe overlooking the harbour.
My current situation is that I have a lot of patients – from October to May the local inhabitants and in the summer tourists as well. The Greek patients have started to understand what I can offer them as a GP and have started to appreciate me. I still do not collaborate with any other doctors and do not have anyone as locum (I'm the only family doctor on the island, everyone else is some sort of specialist). The Greek national association of general practitioners is starting to take shape but still lacks any influence.
Contact with the University of Groningen
I didn't really have any contact with the University of Groningen until recently. I first stumbled across the alumni website when I was searching for classmates for a secondary school graduating class reunion. I feel that one's alma mater should actually be a lifelong connection to the academic world and science, including post-academic training which is not only in your own area of expertise.
| | |
| --- | --- |
| Last modified: | 16 March 2020 4.45 p.m. |