'We plan to celebrate our silver wedding anniversary in Groningen where we found love without barriers'
First place
I met my husband, Dr Serge Bayala, at the University of Groningen in December 1998, just one week before I was supposed to leave Groningen to go to Stirling to continue with my MSc programme. He had just arrived in Groningen to start his PhD research in Financial Management at the University. We met through my Burkinese roommate and it was love at first sight.
Though we had difficulties with the language as he spoke French and I spoke English, we instantly felt a bond of love, which was beyond any language. After one week together I decided to stay in Groningen until my programme at Stirling University began in February 1999. We kept in touch, and when I finished my MSc programme in the UK I came back to Groningen for the graduation ceremony.
After applying to over 80 companies in Europe I managed to get a job with the Zernike Group in Groningen, and thus our destiny together was sealed. With me working in Groningen and Serge working on his PhD there too, we managed to stay together, although we went through separations for 6-7 months every year when Serge had to return to Burkina Faso to lecture at the University as part of his commitment to his PhD programme.
We got married in Malaysia and in Burkina Faso in 2002 with the blessings of our dearest families from Malaysia, Groningen and Burkina Faso. We now have 3 beautiful children aged 7, 5 and 1, and we are still very much in love. We plan to celebrate our 25th (silver) anniversary in Groningen where we found love without barriers. Groningen will go down in our family history as our 'love nest'. A big thank you to our University of Groningen family for supporting our love all these years.
Geeta Thuraisingam from Malaysia (MSc International Business, 1999)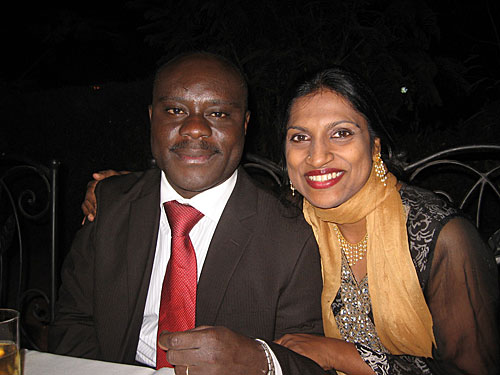 | | |
| --- | --- |
| Last modified: | 16 March 2020 4.44 p.m. |