Momentous signature marks the start of the Groningen Confucius Institute
Meeting the rising interest in China in the northern Netherlands, while bolstering the economic relationship between the two countries, is the main reason for the foundation of a Groningen Confucius Institute. Although there are hundreds of Confucius Institutes all over the world, Groningen is only the second Dutch city hosting a Confucius Institute, alongside the city of Leiden. The newly established institute will organize activities for people with a cultural interest in China as well as for companies wishing to do business.
Signature set in Beijing
The start of the Institute was officially confirmed in Beijing last December when the Dutch and Chinese partners signed the agreement. Professor Poppema, president of the Board of the University of Groningen, signed on behalf of the three Dutch partners: Hanze University of Applied Sciences Groningen, the Municipality of Groningen and the University of Groningen. The signing partner on the Chinese side was Hanban, an organization affiliated to the Chinese Ministry of Education which aims to promote Chinese culture and language across the world.
Momentous
The signature set by Hanban was a momentous one. Since early 2010, all activities regarding new Confucius Institutes had been frozen. However, the tremendous support found in society and the multifaceted nature of the activities the Groningen Confucius Institute is set to embark upon meant that in Groningen's case an exception could be made. The Chinese Embassy in The Hague was instrumental in providing support for Groningen.
Quartered in the heart of Groningen
The institute will be quartered in the city centre at the University of Groningen in the Boteringestraat. Mrs Xuefei Knoester-Cao of the University's Office for International Relations will become the director. The Hanze University of Applied Sciences and the municipality of Groningen will also provide members of the management team.
Grand opening
The Institute's first activity consisted of a spectacular Chinese Martial Arts Culture show. Acrobats, dancers and sportsmen from China, some of them national champions, performed in the show, organized annually by Hanban on the occasion of Chinese New Year. More than one thousand visitors enjoyed the performance, which contained Chinese martial arts, acrobatics and traditional Chinese dance, such as the lion dance.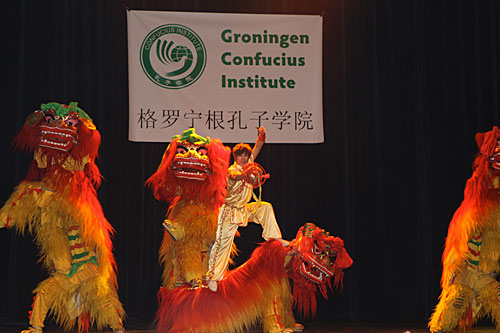 | | |
| --- | --- |
| Last modified: | 16 March 2020 4.43 p.m. |