'Spread the good word about Groningen'
They came to Groningen from all corners of the globe and this summer, their studies completed, they will go back out into the world again – but in a new guise as international alumni ambassadors for the University of Groningen. The project was launched at Apenheul Primate Park in Apeldoorn.
Alumni represent a valuable network for the University in terms of placements and support of academic research. At present about ten percent of students in Groningen come from abroad. Once they have completed their studies, they form a valuable addition to the University of Groningen's alumni network. Carina Bravo spearheads the international alumni programme. Originally from Mexico, she came to Groningen as an international student and is now the international alumni officer. Her aim with this project is to 'spread the good word about Groningen'.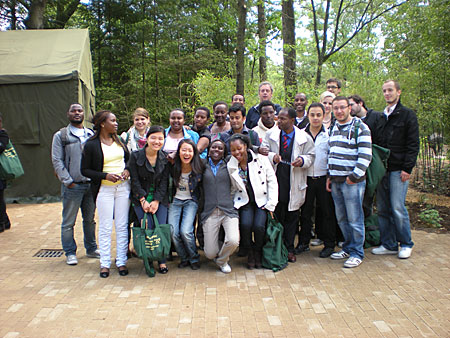 Joining the group in Apeldoorn is Rector Magnificus Elmer Sterken, who has high expectations of these graduates. 'The role of ambassador will be different in each region', he says. 'In Africa, our main concern is to help create a network of well-educated people in the countries themselves. But for other countries, the ambassador's role is much more about recruiting new students. We've formulated a fairly robust objective in that respect. At present, about ten percent of our students come from abroad. We'd like to push that figure up to about 25 percent. These ambassadors have a part to play in that objective. But I regard the non-material benefits of an international alumni network as most important – promoting exchanges, arranging placements more easily in companies all over the world and establishing important contacts in the academic world.'
Down to earth
All of the students are enthusiastic about their programmes and their life in Groningen. Petronella from Zimbabwe is happy about the friends she has made. 'I was away from home, but I felt at home.' Alessandro from Italy has this to say: 'I found Groningen very instructive – more practical and with a greater focus on working together than at home.' For Tadele from Ethiopia, the most important thing was learning to work with others. 'And we did a lot of practical assignments; that's much less common where I come from.' Juan from Chile is enthusiastic about the teaching staff: 'The lecturers talk to you, they're always prepared to look that little bit further and perhaps to learn something themselves as well. They're pretty down-to-earth, which I appreciate.'
Lessons from primates
Apenheul Primate Park organized a special tour for this group in the form of a leadership workshop. That's because primates can teach us a great deal about leadership, group behaviour, hierarchy, and giving and taking. It's not just managers who can benefit; students on the eve of graduating also find it instructive. Armed with these 'lessons from primates', Carina Bravo and the students are working out the specific details of their voluntary role as Groningen ambassadors in the year ahead. This will enable them to spread the good word.
This article originally appeared in Dutch in 'Broerstraat 5' magazine. Author: Erna Oosterveen
| | |
| --- | --- |
| Last modified: | 16 March 2020 4.38 p.m. |