University of Groningen alumnus Dr Robert Manurung and the Jatropha plant
University of Groningen alumnus Dr Robert Manurung recently visited the University of Groningen to help launch a research project that aims to make remote regions in Indonesia more self-supporting by generating added value with agricultural produce, including a toxic tropical plant, Jatropha Curcas.
Dr Manurung gained his PhD in Chemical Engineering at the University of Groningen in 1994. He is currently scientific advisor for a number of companies worldwide and associate professor at the Bandung Institute of Technology. His specialism is the application of biofuels (especially jatropha curcas) in developing countries.
Dr Manurung is especially interested in research that can directly benefit people. 'I chose to research the applications of jatropha because of its economic value. Jatropha is a plant that can grow in dry and unfertile land and therefore the establishment of jatropha plantations could be a source of income for poor farmers living in a dry area. Jatropha has a high oil content. It would have a powerful social and economic impact if it could be used directly in commercial engines.'
Jatropha waste
In 2006 Dr Manurung used Jatropha oil to fuel 3 vehicles in a 3,200-kilometer expedition from Atambua to Jakarta. The expedition was also sponsored by National Geographic Indonesia magazine. After this great success new issues came to the fore, particularly how can Jatropha waste be efficiently processed after the oil has been removed? After all, Jatropha is toxic. Dr Manurung and his research partners at the University of Groningen and Wageningen University have been busy working on what is called 'Maximum valorization of waste and biomass'. They are currently in the last phase of this project, which researched the best and most efficient ways of processing and using Jatropha waste.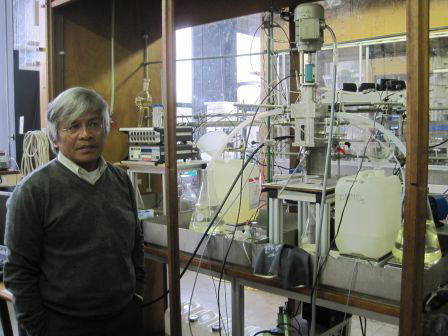 Factory-on-a-truck?
Nevertheless, a new challenge has arisen for the research team: whether it is possible to make all the technology needed to process Jatropha biowaste mobile – i.e. put it on the back of a truck. But why would they want to do this? The answer is simple. Normally, for the biowaste to be processed it has to be transported to wherever there's a suitable factory, for example in Jakarta. A factory-on-a-truck would bring the technology to the regions where Jatropha is cultivated. Thus, the people would be able to process the Jatropha waste locally and have a greater share in the benefits of cultivating Jatropha on their land.
Joint venture research
Dr Manurung is the Indonesian project leader of this new joint venture research that will involve 4 PhD students, 2 postdocs and various specialists in different fields, such as business, planning, finance, sustainability, etc., from the five universities involved: the University of Groningen, the Bandung Institute of Technology, Wageningen University, Twente University, and the University of Palangkaraya (Kalimantan/Borneo). 'This is a very complex project for which we need experts in other fields because other commercial factors come into play. For example, the costs of planting and processing the Jatropha locally have to be covered so that the selling price of the biofuel can not only compete with petrol but at the same time create a margin of profit for the people'.
'Groningen feels like home'
Dr Manurung was in Groningen last week to select the PhD candidates who will be involved in the research and to discuss related issues with his research partner, Prof. Erik Heeres. He has always kept in touch with the University of Groningen since gaining his PhD in 1994. 'I first came back to Groningen two years after I finished my PhD. We were signing a cooperation agreement for a double Master's degree between the University of Groningen and Bandung Institute of Technology. I also clearly remember the first time that I came back to Groningen with my wife and my first son, who was only a few months old. Nowadays I visit Groningen regularly. I have many friends here. It feels like home.'
| | |
| --- | --- |
| Last modified: | 16 March 2020 4.01 p.m. |