Interview with Gizachew Admasu Manahle
Dean of the Law Faculty of Haramaya University, Ethiopia, and alumnus of the University of Groningen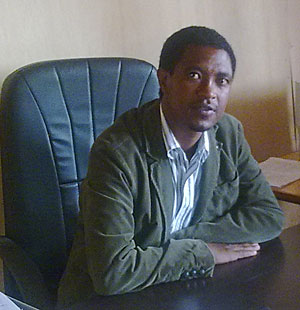 Why did you decide to study in Groningen?
The reasons for me to choose the University of Groningen are manifold. Until very recently, there was only one university in my home country running a postgraduate study programme in law. Even then, the study programmes it offered were not only few but they were also more general programmes allowing little specialization opportunities. These factors together, from the very beginning, induced me to look out for opportunities to study in Europe. Among the few universities where I applied for admission -mainly by looking at the kinds of programmes they offered and the reputations they had- was the University of Groningen. In the end, although I got the chance to study at two universities including the University of Groningen, the latter became my ultimate choice. I was lucky to get admitted to the University of Groningen, and to have Nuffic agreed to cover my financial needs. I am grateful both to the University of Groningen and Nuffic for generously creating that window of opportunity.
What are your best memories of the University of Groningen?
Studying with a host of students who came from various countries was an amazing experience. Almost each of my classmates came from a different country. Metaphorically, it was like the whole world in one class. I still remember sitting comfortably in class amid students with different social and psychological backgrounds, cultures, and value systems. We were like a family. We were free to talk to each other not only about our lessons but also about our respective country's political, cultural, social and economic situation. Talking to, and exchanging ideas with students from almost all parts of the world on various topics of importance was truly educational.
What did you do after graduation?
After graduation I returned to my home country, and resumed teaching undergraduate programmes in law at Haramaya University. Since then, besides teaching, I have been serving in various capacities both as a vice dean, and as dean of the college of law.
From what you have learned in Groningen, what has been the most useful in your professional life?
While what I have learned at the University of Groningen is quite a lot, the most useful thing is perhaps the skill of how to approach legal science. From the way some of our instructors taught, or the methodology they followed in teaching, I realized that studying or teaching law actually goes beyond studying the law itself. Law deals with almost every aspect of human life, and studying law is studying the human life. Our instructors followed an interdisciplinary approach; they were not too legalistic in teaching law. They invited us to critically consider issues from different perspectives; they asked us to read into a volume of useful materials from journal articles to books from court cases, and from judicial opinions to legal documents. The methodology on how to study legal sciences is key to understanding legal science, and I think that is the best and most useful thing I have learned at the University of Groningen.
Could you tell us more about your current position as dean of the Law Faculty of Haramaya Faculty?
Alhough I have been vice dean of the college of law before, my career as dean of the college of law started in February 2008. As a dean, I am responsible for the overall administration and management of the college. Our college of law boasts about 2,000 students, enrolled in its regular, continuing and distance programmes. The college also hosts three academic centers: the Environmental Policy Center, the Social Justice Center, and the Advocacy Skills Center. Our college has 35 teaching staff, both local and foreign, and some administrative staff. From this, you can gauge the volume of my work and the level of my responsibility. Indeed, too much work..
In your opinion, why is it important to stay in contact with your alma mater, the University of Groningen?
It is really important to stay in contact with ones alma mater. I wonder if there is anyone who disputes this in the first place. I have learned a lot at the University of Groningen. It was my intellectual home, and a magnificent place where I met a lot of nice people. It is one of the most reputed universities in the world where many world-problem-solving scientific researches are being undertaken, where scientists sleep less hours, and where opportunities are large.
| | |
| --- | --- |
| Last modified: | 16 March 2020 4.01 p.m. |