Annemieke Hendriks: writer, journalist and alumna of the University of Groningen
about the alumni event in Berlin
The ambition of Professor Zwarts is to create in Groningen a truly international academic environment. Some of that atmosphere I tasted at the reunion evening in Berlin. There was the guest speaker Professor Henk van Os, showing us around the world with his amazing, amusing story about fake in the arts.
A 'horribly ugly' (Van Os, with sadistic pleasure) Madonna with Child played a main part in his story. Van Os, former director of the respected Rijksmuseum in Amsterdam, was in my time a famous professor on the history of Arts in Groningen. No wonder that Groningen and Amsterdam were both claiming him this evening as 'one of them', but that was just for fun.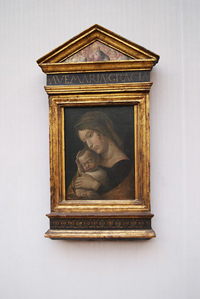 'Germans, please get in touch!'
During the following short one-to-one networking sessions a cacophony of Dutch, English, and German could be heard. I had expected the main group would consist of German alumni of Dutch universities, but the organization explained to me it had problems to keep in touch with them, once they had returned to Germany. So Germans, please get in touch!
In this European atmosphere – almost a sign of protest against my native country Holland, where 'Europe' astonishingly seems to be considered as one big threat – I was allowed to lead the group to a wonderful Spanish restaurant, just opposite the so Dutch looking sluice (an originally Dutch word, I suppose) where the embassy, newly built by the famous Rem Koolhaas, is located.
Berlin: adopted home town
My adopted home town Berlin fits perfectly into this European spirit. It was a kind of pity that exciting Berlin, breaking point of the former East and West, itself was not an official topic this evening. But it is never too late. If you come to Berlin, I can show you around 'the other Berlins', walking or biking you to some wonderful spots you won't easily find in the tourist guides. Just write me a mail and tell me about the themes you wish to explore; for University of Groningen alumni I'll make a special prize.
Hoping to meet,
Annemieke Hendriks
Mail to internationalalumni rug.nl if you want to get in touch with Annemieke.
More about Annemieke Hendriks' work
Annemieke Hendriks has reported from Germany, Central and Eastern Europe for Dutch quality papers as De Volkskrant, De Groene Amsterdammer and Vrij Nederland, and for some Belgian and German newspapers. She wrote seven non-fiction books, three of them situated in the expanded Centre of Europe, such as in 2005 Gespleten land – Omzwervingen langs Oder en Neiße (Divided Land – Wandering around the Oder-Neiße Line, about German-Polish realities) the other ones on cultural and film themes.
Her actual book IJzeren deuren ( Iron doors – Six families between Eastern and Western Europe, in Dutch for Contact Publishers) was originally published in Germany as Unheile Heimat (edition Körber-Stiftung Hamburg 2009).
'The strength of this book is that by relating personal stories like these, the reader relives the history of a whole continent. […] The second chapter deals with the story of Mirek, a Pole with a Dutch wife, whose father saw an old woman in the streets of Krakow in 1945, collecting cigarette butts. It turned out to be his mother - expelled from her homeland by the advancing Russian army.
Iron doors leaves the reader with just one conclusion. If we want to build a united Europe, more attention should be given to the collective memory of our history. If we fail to do so, politicians with dark motives will easily give voice to hate and suspicion.'
(Robert Farla in the European paper IDEE)
| | |
| --- | --- |
| Last modified: | 16 March 2020 3.55 p.m. |