Summerschool: Gender and Diversity in Academia - Rethinking the Challenges
Wanneer:

ma

03-07-2017
Waar:

University of Groningen, The Netherlands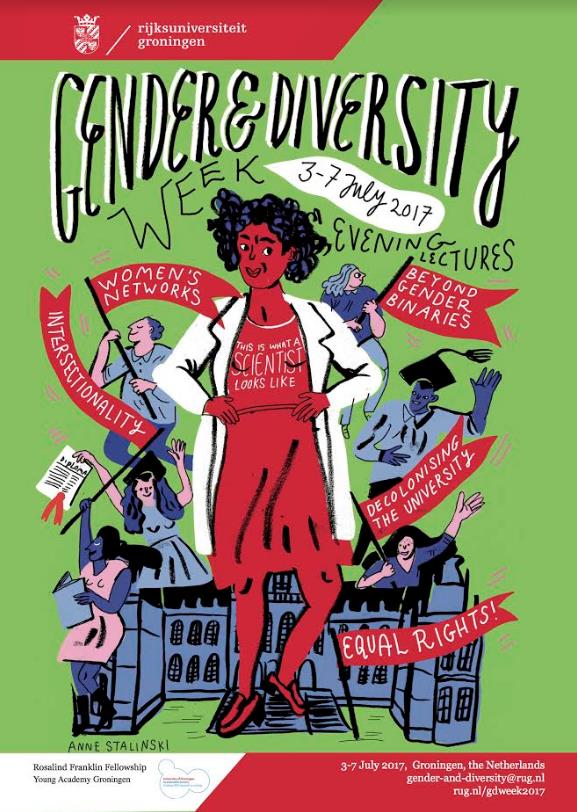 Dates
3 - 7 July 2017
Deadline for application: 31 March 2017

Level
MA / PhD / Postdoc / Practitioners
Coordinators
Dr. Mónica López López (Faculty of Behavioural and Social Sciences)
Lucía Berro Pizzarossa (Faculty of Law)

Fees
€ 250 (excluding housing)
€ 485 (including housing)
Diversity and inclusion are key terms in many universities' strategic plans. But are they being realised? Are we narrowing the gender gap and advancing diversity in practice in academic settings? Is the university engaging sufficiently with diversity and gender questions? And what are we working towards: what does an inclusive academic community look like?
If these questions pique your interest, we would like to invite you to join in the first Groningen Summer School on 'Gender and Diversity in Academia: Rethinking the Challenges' taking place from 3rd to 7th of July 2017. The summer school is jointly organized by the Faculties of Law and Behavioural and Social Sciences and supported by the University of Groningen's Sustainable Society and the Young Academy. We adopt an multi-disciplinary perspective in examining the lack of diversity in academic settings, the existing challenges and the success stories. The summer school will engage with issues of representation and inclusion in academic settings and aims to enquire about the responsibilities of academic thought towards societal issues.
Lectures, debates, case studies, and methodological workshops are accompanied by talks on a variety of topics surrounding Gender and Diversity in Academia, given by scholars from the University of Groningen as well as internally renowned experts. The summer school offers interactive learning opportunities in a lively academic setting, and will stimulate dialogue and critical reflection between teachers, speakers and participants. Social and cultural activities such as concerts and film screenings create thought-provoking spaces to broaden the academic activities.
Contact


gender-and-diversity@rug.nl

Faculties involved
Faculty of Law
Faculty of Behavioural and Social Sciences
Partners

Sponsors
Sustainable Society
Young Academy Groningen

MORE INFORMATION