Henk Snapper, CFO/RvB-lid UMCG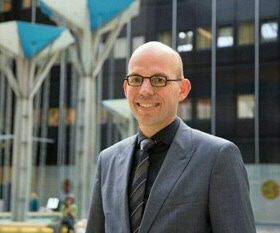 'Universele bagage voor dynamische context'
'Door de interactie met vakgenoten en de externe reflectie zet je grotere stappen dan wanneer je een vergelijkbare opleiding 'on the job' doet. Je komt écht verder, als professional en als mens.
De CFO is het geweten van de organisatie. Je hebt diepgaande vakinhoudelijke kennis en een evenwichtig karakter nodig om anderen een spiegel voor te houden en beslissingen te nemen vanuit je persoonlijke morele en ethische kompas. Voor die unieke combinatie pakt de opleiding EMFC zijn verantwoordelijkheid en rol.
De kwaliteit van de opleiding ligt besloten in de gedrevenheid waarmee het docententeam de wetenschap en praktijk samenbrengt, zich verdiept in wat er speelt en weet welke trends duurzaam en relevant zijn voor de opleiding. Met als doel: talentvolle mensen afleveren die stevig in hun schoenen staan in hun rol als controller op leidinggevende posities.
De complexiteit van die rol neemt toe. Het accent verschuift steeds meer van informatie naar risicomanagement. Trends als Big Data, 3D Printing en het 'Internet of Things' dwingen tot nieuwe business modellen en transities, ook in mijn sector, de gezondheidszorg. Die veranderende context vergt veel van de inhoudelijke en sociale bagage die je kwalificeren als strategisch gesprekspartner.
Uit ervaring kan ik zeggen: deze opleiding geeft je die bagage. Ik heb hem zelf gevolgd, van 2005 tot 2007. Een waardevolle herinnering aan de verbreding van mijn expertise die bruikbaar is in mijn huidige positie en aan de levendige debatten met docenten en studiegenoten. Ik heb er geleerd dat je alleen standvastig en overtuigend kunt zijn op basis van feitelijke argumenten; dat niet per se de slimste de top bereikt, maar degene met de best ontwikkelde sensibiliteit voor mensen, organisaties en ethische dilemma's.'
---
Henk Snapper is sinds 2015 lid van het curatorium van de opleiding en ziet vanuit die verantwoordelijkheid toe op de kwaliteit en actualiteit. Henk Snapper is sinds 2005 werkzaam bij het UMCG. Daar trad hij in 2013 tot de Raad van Bestuur.
| | |
| --- | --- |
| Laatst gewijzigd: | 03 maart 2020 14:38 |