XR HUB 2 November: saving patients via XR and virtually visiting the Proton Therapy Center
| | |
| --- | --- |
| When: | Th 02-11-2023 10:30 - 12:00 |
| Where: | Smitsborg, Nettelbosje 1, Groningen |
The XR Hub meeting on Thursday, November 2, will focus on the application of XR in medical education. Visulization experts from CIT provide support for the projects discussed at the meeting.
Location and time.
The XR-HUB will take place at the Smitsborg , Nettelbosje 1, Groningen. In addition to a plenary session in the Donald Smits Room, there will be demos in the XR Lab and the 3D Theater. The central session can also be followed via stream.
The meeting is from 10:30 a.m. to noon.
Sign up
You can sign up by sending an email to realitycenter@rug.nl .
Language: English
Program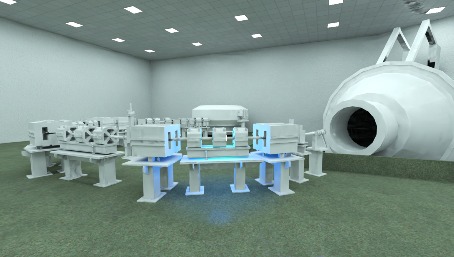 Virtual visit to UMCG Proton Therapy Center via EngageVR and 3D Theater | Roland Chi (University Center Groningen) and Gert-Jan Verheij (Center for Information Technology)
As part of the Edu+ project, students at University College Groningen (UCG) and Campus Fryslân tried out an application of the VR world-hosting program EngageVr. This is an opportunity to use a VR world in education with relatively little preparation to create a role-play or virtual journey.
UCG lecturer Roland Chi talks about the experiences of his students in the Health and Life Sciences major when visiting a virtual version of the UMCG Proton Therapy Center. Gert-Jan Verheij, educational technologist of the CIT visualization team, explains how this works didactically and technically.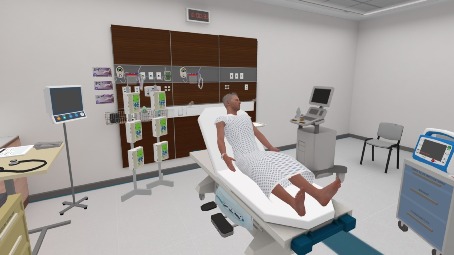 Medical students train ABCDE method via virtual reality | Rienk Dijkstra, Wenckebach Institute for Education and Training, UMCG
The Wenkebach Institute has gained experience with the use of VR in the master's program in medicine. A SimX application was used for this, in which students must apply the ABCDE method as realistically as possible to a patient in an acute, life-threatening situation. This method is a systematic method used in acute medicine to provide aid according to the principle of 'treat first what kills first'.
In medical studies, the ABCDE method is now mainly taught theoretically, but with the help of VR it is possible for students to actually experience an emergency setting, and they are strongly encouraged to correctly apply the ABCDE protocol. In pairs, the students go through various VR scenarios in a rotation schedule, with one student taking on the role of doctor and the other the role of nurse.
Rienk Dijkstra, lecturer at the Wenkebach Institute talks about the design of the innovation project, the developed lesson plan and the experiences gained. There is also the opportunity to save a patient yourself in a VR scenario.
XR HUB
The XR Hub organizes bi-monthly meetings for faculty and researchers at the University of Groningen to share knowledge and experiences on the development and use of applications of Extended Reality: augmented reality (AR), mixed reality (MR), virtual reality (VR) and 3D.
XR HUB 2 November: saving patients via XR and virtually visiting the Proton Therapy Center