CANCELLED!! Webinar dr. Tim Wittig: It's not Green if it's not Clean: the nexus of Illicit trade, international security, and global sustainability.
| | |
| --- | --- |
| When: | We 08-03-2023 12:00 - 13:00 |
| Where: | Online |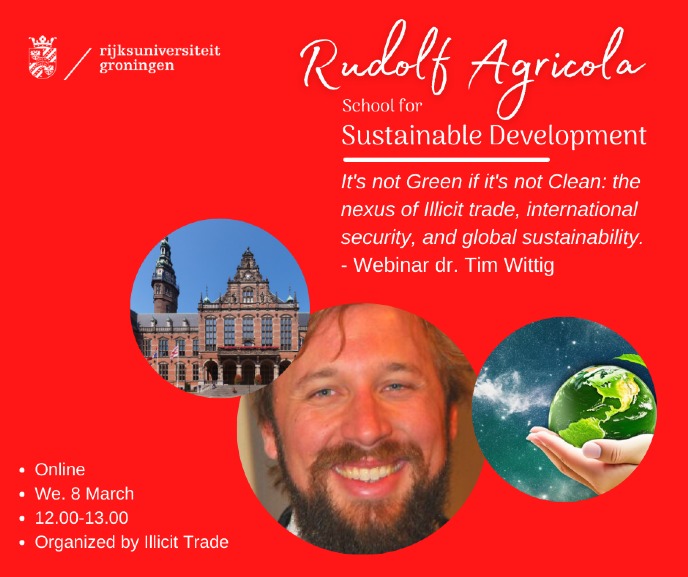 What is the subject of this webinar?
Illicit trade, organized crime, corruption, financial crime, and contemporary security threat actors are key drivers of climate change, biodiversity loss, and ecosystem collapse.
This talk discusses the powerful overlaps between illicit trade and environmental degradation and details how tools to fight illicit trade can be used to bring about a more sustainable society for people and the planet.
Who is dr. Tim Wittig?
Dr. Tim Wittig currently holds fellowships at Oxford University (Oxford Martin School) and the Royal United Services Institute (RUSI) in London.
As an academic and researcher, Wittig was a tenured professor of Globalization and Humanitarian Action at the University of Groningen in the Netherlands until 2019, when he left academia to go back into the world of practice. Prior to that, he held research and academic faculty appointments at the Johns Hopkins University (Applied Physics Laboratory), the US National Defense University, the University of Amsterdam, the University of St Andrews, and the George C. Marshall European Center for Security Studies.
What academic research dr. Tim Wittig is focusing on?
Dr. Tim Wittigs` academic research focuses on the use of finance to impact political and social outcomes - and in particular, the role data, intelligence, and information play in this process - with applications in wildlife conservation, ESG/sustainable investing, terrorist finance, conflict economics, economic warfare, and asymmetric information/influence operations.