Illicit Trade: documentary 'Wild Daze' & panel discussion on poaching and wildlife trafficking
| | |
| --- | --- |
| When: | Th 20-04-2023 19:30 - 23:00 |
| Where: | Cinema RKZ Bios, Emmastraat 15, Groningen |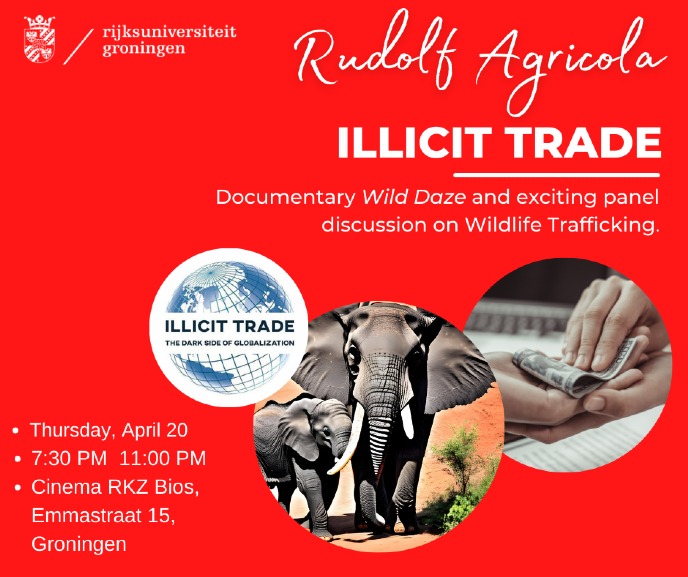 Illicit Trade Group welcomes you on the 20th of April for the first European screening of the critically acclaimed documentary Wild Daze and an exciting panel discussion on Wildlife Trafficking.
Poaching and trafficking of elephants
Set in Subharan, Africa, the documentary zooms in on human-animal conflict and the poaching and trafficking of elephants. How this phenomenon has evolved and what other animals are subject to wildlife trafficking will be discussed in the panel following the movie. For our panel, we are joined by wildlife trafficking experts Rachel Mackenna and Alessandra Rossi. Both have worked in various international organisations such as the UNDP, the Global Initiative against Transnational Organized Crime and the Environmental Investigation Agency.
Sign up
The event is free of charge, and participants can sign up via this form
Please note that we have a limited capacity of 68 participants, so it is necessary to sign up to attend. If you cannot make it due to various circumstances, please let us know as well so that someone else can attend instead.
This event is jointly organised by SIB Groningen, ELSA and us, the Illicit Trade Group, to facilitate a cross-disciplinary discussion on Wildlife Trade between students and researchers from International Relations, International Law and other disciplines.
The Movie
Wild Daze is a feature-length documentary following passionate people who work to save wildlife despite the numerous threats facing its survival, including Africa's rampant, systemic corruption and crime.
Filmed in 9 countries, Wild Daze was forged by a fierce desire to save African wildlife, while also protecting its exploited and vulnerable communities. An astonishing look at the complex threats which humans impose on Africa's vanishing wildlife, Wild Daze undeniably demonstrates how its loss affects the entire planet. Set in Sub-Saharan Africa, in her compelling documentary Wild Daze, director and producer Phyllis Stuart shares the unvarnished truth about the battle between humanity's desire to control nature and our need to save the wild.
Speakers
Rachel Mackenna
Rachel Mackenna is a Senior Wildlife Campaigner at the Environmental Investigation Agency (UK). Her work at EIA focuses on researching the illegal ivory trade across Africa, with a particular focus on mapping the organised criminal networks behind the poaching and trafficking. This involves forming key partnerships with NGOs, IGOs and Government partners to build and strengthen criminal justice responses to wildlife crime and to enhance the conservation of endangered elephants. She has considerable experience in international policy, including the National Ivory Action Plan process under CITES, and has previously worked for the Global Initiative Against Transnational Organised Crime and Royal United Services Institute, researching different forms of organised crime.
Alessandra Rossi
Alessandra is a passionate biodiversity and wildlife expert, dedicated to the conservation and sustainable use of wildlife and natural resources. In her long career, Alessandra has worked as a technical consultant for the CITES Management Authority in Italy, as a biodiversity expert for several restoration/impact assessment projects in developing countries and as a project officer wildlife trade in eastern/southern Africa. Her work experience in East Africa has led, among others, to a comprehensive analysis of the wildlife trafficking situation in Uganda. She recently moved to the Netherlands, where she lives with her family and works as a geo-specialist at the Province of Groningen, at the same time contributing her expertise to the UNDP-GEF funded project "Combating Poaching and the Illegal Wildlife Trade with an integrated approach" in Tanzania.
Her fields of expertise concern: the CITES Convention and international environmental policy; biodiversity conservation and environmental/social impact assessment; wildlife management; poaching and illegal wildlife trade (with a particular focus on Africa-Asia trade routes), wildlife trade analysis; human-wildlife conflict; wildlife market surveys; wildlife crime.