Exhibition on each floor
Exhibition layout Dear reader. Don't read. Books as works of art - University Library City Centre
Based on different themes for each floor of the University Library, the exhibition highlights different aspects of conceptual artists' books in the years 1960–1980. The books were groundbreaking at that time and have remained important afterwards. The centre of the exhibition can be found on the third floor.
THIRD FLOOR: Different forms of conceptual artists' books
The different forms of conceptual artists' books are the focus in the stairwell and in the third-floor coffee corner. The age-old concepts employed by artists appear here in a new guise. In the same way that the elements of colour, form, line, size and material are used to create a painting or sculpture, conceptual artists use visual elements to visually engage the viewer in the artwork. The large display case in front of the Special Collections department contains books by Mexican artist Ulises Carrión, one of the pioneers of the conceptual artist's book. These works come from private collections and the Groninger Museum.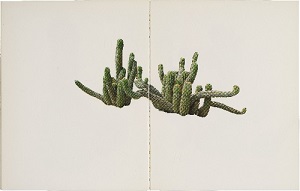 Special Collections wall display (stairwell):
Ulises Carrión (Books by the Mexican artist Ulises Carrión from private collections and the Groninger Museum)
Tell me what sort of wall paper your room has and I will tell you who you are, 1973
Arguments, 1973
The Muxlows, 1978
Table displays (stairwell): Ed Ruscha, Stanley Brouwn and Sol LeWitt
Table display 1: Ed Ruscha

Twentysix gasoline stations, 1962
Various small fires and milk, 1964
Some Los Angeles apartments, 1965
Every Building on the Sunset Strip, 1966
Thirty-four parking lots, 1967
Royal road test, 1967
Nine swimming poles and a broken glass, 1968
Business cards, 1968
Crackers, 1969
Real Estate Opportunities , 1970
A few palm trees, 1971
Records, 1971
Dutch Details, 1971
Colored People, 1972
Table display 2: Stanley Brouwn en Soll Lewit
Stanley Brouwn
Steps, 1971
Stanley Brouwn (Van Abbemuseum), 1976
100 mm - 878 mm, 1978
One distance, 1981
Stanley Brouwn (Van Abbemuseum), 1997
Stanley Brouwn (Van Abbemuseum), 2005
Sol LeWitt
49 three-part variations using three different kind of cubes (1967-68), 1969
The location of eight points, 1974
The location of lines, 1974
The location of straight, not-straight & broken lines and all their combinations, 1976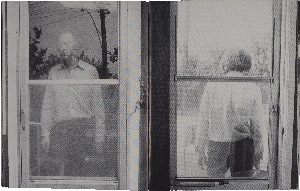 Displays above the table displays (stairwell): Gilbert & George and Michael Snow

Gilbert & George
The paintings (with us in nature), 1971
George and Gilbert : the living sculptors (Australian visit), 1973
Dark Shadow, 1976
Michael Snow

Displays in the coffee corner: John Baldessari and Daniel Buren
John Baldessari

Ingres and other parables, 1972
Choosing: Green Beans, 1972
Daniel Buren

Halifax: 7 days - 6 placements - 7 colors, 1974
Essai hétéroclite , 1981
FOURTH FLOOR: Language
The displays in the coffee corner on the fourth floor centre on the use of language in the books. Conceptual artists' books often contain texts that use instructions, notes and descriptions to evoke a situation or event in the mind of the reader. Words and sentences, handwritten or typed, express the artist's thoughts in different ways.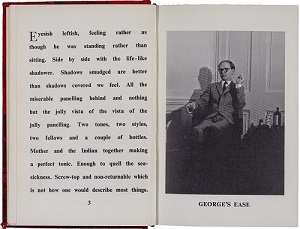 Displays coffeecorner
Jospeh Kosuth, Lawrence Weiner, Marcel Broodthaers, Robert Barry, Hanne Darboven and Hetty Huisman
Joseph Kosuth
Function, Funzione, Funcion, Fonction, Funktion,1970
Teksten/textes, 1976
Lawrence Weiner
Once upon a time, 1973
8 Arbeiten von Lawrence Weiner, 1973
Auf ein vernunftiges Ende zu, 1975
Various manners with various things, 1976
Marcel Broodthaers
Eine Reise auf der Nordsee, 1973
No photographs allowed, 1975
L'angelus de Daumier, 1975
Robert Barry
All the things I know but of which I am not at the moment thinking - 1.36 pm, june 15, 1969, 1974
Belmont 1967, 1977
Hanne Darboven
Hanne Darboven: Ausstellung mit 6 Filmprojektoren nach 6 Büchern über 1968, 1969
Das Sehen ist nämlich auch eine Kunst, 1974
Hetty Huisman

In betrachtung, 1979
Ter bezinking, 1982
In verhouding, 1984
SECOND FLOOR: Land Art and photography
Land Art and photography are the focus in the display cases on the second floor. Land Art is an art form in which artists create works in nature, for example by rearranging or removing branches, stones and soil. Some Land Art works are conceptual in that they only exist in the form of documentation about actions and events taking place in nature. The books of Richard Long, for example, contain photos, maps, words and symbols that collectively constitute the visible remains of his walks – they have become artworks in themselves.
Displays in coffee corner
Artists & Photographs (Lawrence Alloway), Hamish Fulton, Richard Long, Mark Boyle, Jan Dibbets and Ger Dekkers
Lawrence Alloway
Artist & Photographs, 1970 (14 in totaal)
Hamish Fulton
Hollow Lane, 1972
Camp fire, 1985
Rchard Long
Inca Rock, Campfire Ash, 1974
The north woods, 1977
Mark Boyle

J.L. Locher, Mark Boyle's journey to the surface of the earth, 1978
Jan Dibbets

Roodborst territorium/sculptuur 1969, april-juni, Robin Redbreast's territory/sculpture 1969, april-june, 1970
Ger Dekkers

Plastic : 26 series of colourslides, 1978
FIRST FLOOR: Key figures
The displays on the first floor feature key figures such as gallery owner Seth Siegelaub and the Art & Project gallery in Amsterdam. Both played an important role in the rise of conceptual art.
Also there is a display devoted to exhibitions organized by Wim Beeren, art historian and former director of Museum Boijmans Van Beuningen (Rotterdam) and the Stedelijk Museum (Amsterdam). He was not only a major figure in conceptual art, but as lector in Art History of the 19th and 20th Centuries at the University of Groningen he was also instrumental in creating the collection of conceptual artists' books now owned by the University Library Groningen.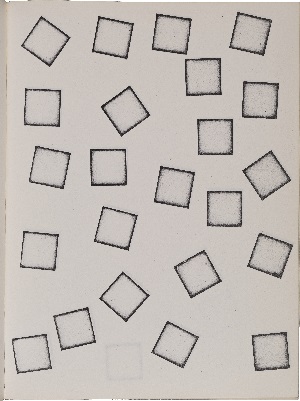 Displays in hall near the coffee corner
Art & Project Amsterdam and Seth Siegelaub
Art & Project (diverse bulletins)
Seth Siegelaub

The Xerox Book, 1968
January 5-31 1969, 1969
juli augustus september, 1969
Display in coffee corner (view from both sides):
Wim Beeren and exhibitions

Op losse schroeven: situaties en cryptostructuren, 1969
Live in Your Head: When attitudes become form, 1969
Sonsbeek '71 (twee delen), 1971
Sonsbeek '72 (drie delen), 1972
Wim Beeren, Rini Dippel, Hein van Haaren, Wim Beeren om de kunst, 2005
| | |
| --- | --- |
| Last modified: | 21 May 2019 11.59 a.m. |