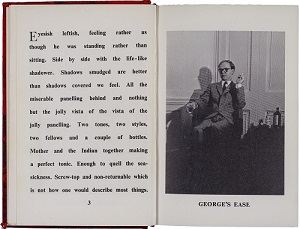 De tentoonstelling Dear reader. Don't read. Het boek als kunstwerk werd geopend op donderdag 20 september. Spreker was drs. Hans Ebbink.
Ebbink is kunsthistorisch publicist, beeldredacteur van de 11-delige serie Kunstkritiek in Nederland 1885-2015 en was eigenaar van From Art to Book and Back Again, een online antiquariaat van moderne kunst(enaars)boeken en tentoonstellingscatalogi. Hij vertelde over zijn zoektocht naar bepaalde unieke kunstenaarsboeken, en de paradox dat de boeken die aanvankelijk bedoeld waren als massaproduct, en van de makers uiteindelijk best in de prullenbak mochten belanden, enkele decennia later gewilde objecten waren met een hoog prijskaartje.
Leuke bijvangst: de verloren gewaande, acht meter lange leporello (vouwboek) Every Building on the Sunset Strip (1966) van Ed Ruscha werd door een UB-medewerker gevonden in het magazijn, terwijl hij op zoek was naar een ander werk van deze kunstenaar!
| | |
| --- | --- |
| Laatst gewijzigd: | 21 mei 2019 11:59 |