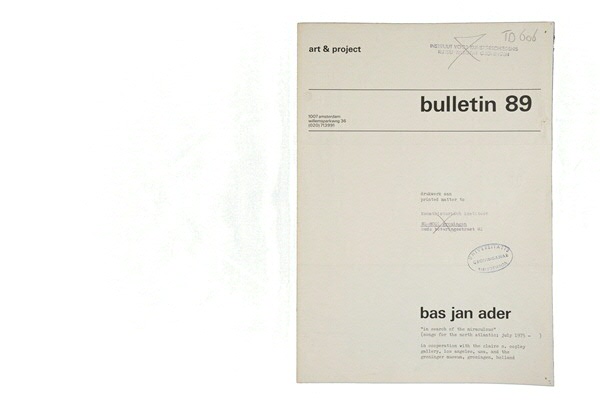 Galerie Art & Project, Amsterdam (1968 – 2001)
In 1968 werd de galerie Art & Project door de bibliothecaris van het Stedelijk Museum, Geert van Beijeren, en architectuurstudent Adriaan van Ravesteijn opgericht. De galerie bouwde, dankzij een groot netwerk, een internationale reputatie op binnen de conceptuele kunst. Nederlandse conceptuele kunstenaars als Marinus Boezem, Stanley Brouwn, Jan Dibbets en Ger van Elk exposeerden bij de galerie. Ook kwamen buitenlandse kunstenaars eind jaren '60 naar Amsterdam om hun werk in de galerie te tonen of zich voor een langere periode in de bloeiende cultuurstad te vestigen. De conceptuele kunst kreeg in Nederland toen misschien niet dezelfde aandacht als in Amerika, Engeland en Duitsland, toch heeft de aanwezigheid van Art & Project veel voor deze kunstvorm in ons eigen land betekend.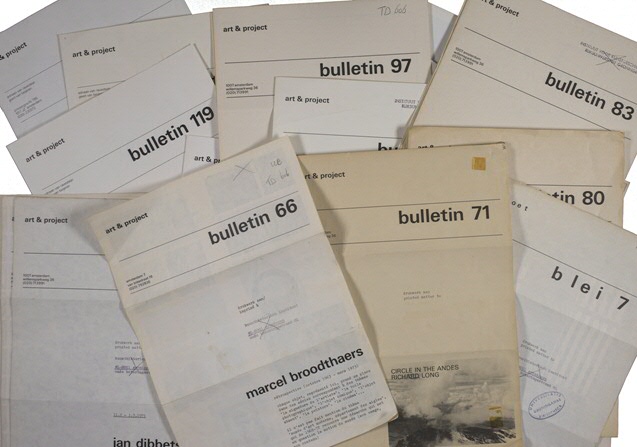 Bulletins, 1968 – 1989
Gedurende 21 jaar brachten Van Beijeren en Van Ravesteijn in totaal 156 zogenaamde 'bulletins' uit om hun tentoonstellingen in de galerie onder de aandacht te brengen. Een bulletin bestond uit een vouwblad dat als uitnodigingskaart werd verstuurd. Op de eerste pagina van een dubbelgevouwen A3-vel stonden het nummer van het bulletin, de naam van de kunstenaar en de data van de tentoonstelling. De andere pagina's werden door de exposerende kunstenaars ingevuld en werden eigenlijk kunstwerken op zich, die per post werden verstuurd. Kunst en informatie over kunst werden één. De exposerende kunstenaars konden zo een ​​veel breder publiek bereiken dan alleen de bezoekers van de galerie.
Bulletin #89, 1975
Een voorbeeld van een van de vele bulletins die in het bezit is van de Universiteitsbibliotheek Groningen is
bulletin #89,
uit augustus 1975, van de Nederlandse kunstenaar Bas Jan Ader (Winschoten, 1942 – Atlantische Oceaan, 1975). In dit bulletin drukte Ader een foto van zichzelf in een zeilbootje af met de tekst
: In search of the miraculous
. In datzelfde jaar probeerde hij voor een gelijknamig project de Atlantische Oceaan over te steken in zijn bootje Ocean Wave. Het zou de kleinste boot zijn die de Atlantische Oceaan overstak. Tijdens deze toch raakte hij echter vermist en ongeveer 10 maanden later, op 18 april 1976, werd zijn lege boot voor de kust van Ierland teruggevonden. Bas Jan Ader voerde voornamelijk performances uit, vastgelegd op foto's en films. Hij was een onderzoeker, gericht op verbazing, hunkering en overgave.
| | |
| --- | --- |
| Laatst gewijzigd: | 27 januari 2022 15:10 |