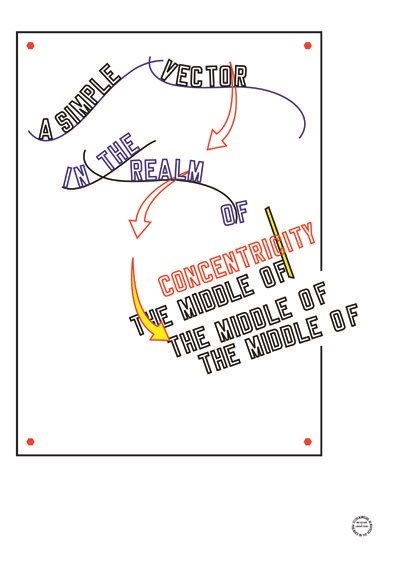 De Amerikaanse kunstenaar Lawrence Weiner werkt met taal, net als de andere kunstenaars die op de vierde UB-verdieping te zien zijn: Robert Barry, Marcel Broodthaers, Hanna Darboven, Hetty Huisman en Joseph Kosuth. Vanaf 1970 bestaat Weiner's werk uit teksten. Deze plaatst hij zowel binnen als buiten de galerie en het museum. Voor Weiner zijn teksten net sculpturen. Ze bestaan uit zinnen die een beweging, handeling of een proces beschrijven. Hij vind het belangrijk dat zijn werk niet te poëtisch van aard is, omdat de tekst makkelijk vertaald moet kunnen worden. Weiner kiest lettertypen die weinig culturele bagage bevatten, zoals de schreefloze Franklin Gothic Condensed of past een zelfgekozen lettertype aan. Om de boodschap zo helder mogelijk over te brengen, gebruikt hij kapitalen. De woorden plaatst hij op een neutrale, witte ondergrond, zoals papier of een muur. Dit is een herkenbaar beeldmerk van Weiner geworden. De posters die in het trappenhuis van de vierde UB-verdieping hangen laten dit zien.
Once upon a time, 1973
In dit kunstenaarsboek maakt Weiner voor het eerst gebruik van fotografie. Het boek bevat teksten in het Italiaans en Engels en daarnaast foto's van de Italiaanse fotograaf Giorgio Colombo. De foto's tonen scènes van het toenmalige Italië, uiteenlopend van straatbeelden tot portretten van mensen. Weiner's teksten bestaan uit vragen die bij de beelden gesteld kunnen worden en de opties die hieruit voortkomen. De functie van de foto's is anders dan de woorden die ernaast zijn geplaatst. De foto's bieden een kader voor de verbeelding en de teksten van Weiner helpen je om in gedachten een visuele voorstelling op te roepen. Op de laatste pagina schreef Weiner de volgende veelzeggende zin: as it is not redress be it then at least as art. Deze woorden karakteriseren Weiner's kunstenaarsboek: het is misschien geen verhaal (wat de boektitel suggereert), maar wel kunst.
| | |
| --- | --- |
| Laatst gewijzigd: | 21 mei 2019 11:59 |