Online Dutch
General information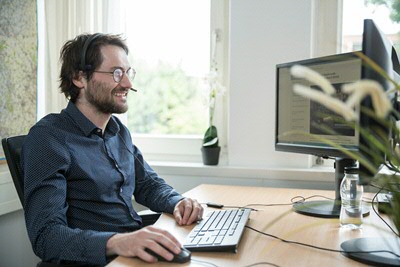 Are you interested in improving your Dutch, without having to commit to a time and place? You can now learn at your computer, when and where you like. The Language Centre's online courses are designed in such a way that you can achieve your learning goals in a structured way. You can learn Dutch through a varied and effective method, through self-study and online sessions in a group of least six participants.
The Online Dutch courses are fully online and are offered at eight CEFR levels , from 0 to C1. Please choose your level in our menu to register online for a course.
---
Duration
8 weeks
The course takes 8 weeks, during which time you will receive intensive supervision. The course is available to you for a period of 10 weeks. In the remaining weeks you will be able to repeat certain assignments with fellow participants or do additional exercises.
Study load
8 to 10 hours per week
You will work intensively on your Dutch proficiency for a period of eight weeks. To be assured of success, you will need to devote an average of 8 to 10 hours per week to your Dutch for the duration of the course. These hours consist of self-study with the book and the website, individual assignments and speaking assignments in pairs. In addition, there are three short interactive group sessions with a teacher and some of your fellow students.
Course material
The courses are based on the methods Nederlands in gang , Nederlands in actie, Nederlands op niveau , and Nederlands naar perfectie . Each method consists of a textbook and an extensive website with exercises and listening material. The methods are not included in the course fee and have to be purchased separately.
Computer and internet requirements
The course is given in the University's online learning environment. This means you will need a sufficiently fast internet connection (fibre-optic, ADSL or cable with at least 4Mbps / 128kbps ) as well as a laptop or desktop computer with good video and audio equipment.
Electronic learning environment
The course is given in the University of Groningen's learning environment Nestor. The course environment provides a clear overview of what is expected of you during the course. For each course there are also useful websites and tips that provide additional help.
Writing and speaking assignments
There are different kinds of assignments: independent study assignments, tests and writing assignments. There are also various speaking assignments in which you can practise your speaking skills. Some are to be completed independently, while others are done in pairs or groups.
Every week there are assignments that can be made in your own time. The assignments with teacher feedback have to be submitted no later than 23:59 on Wednesday evening each week. The interactive online sessions with a teacher are planned in consultation with the students, so that all students who wish to do so can participate.
Interactive group sessions
During the online course, there are three online group sessions with a teacher and a few students. These sessions are scheduled in such a way that all students can participate. We use Skype to communicate with each other. You must have your own Skype account. During the group session, the main language is Dutch. So you need to prepare yourself well for these sessions. It is explicitly the intention that you show what you have learned so far. You will get the topics we are going to talk about prior to the Skype session.
Minimum number of participants
The minimum number of participants is six. The online course is suitable for large groups, but for certain assignments you will be divided up into smaller groups.
Recommendation for follow-up options
At the end of the course you will receive a final score based on your performance in the online course, such as your participation in the interactive sessions, the assessments of writing and speaking assignments and the test results. Based on your final score, you will receive advice on how to proceed. If your score is 55% or higher, you can download a certificate of participation.

| | |
| --- | --- |
| Last modified: | 15 July 2021 4.38 p.m. |