PE-cursus: Acteren op klimaatvraagstukken |4|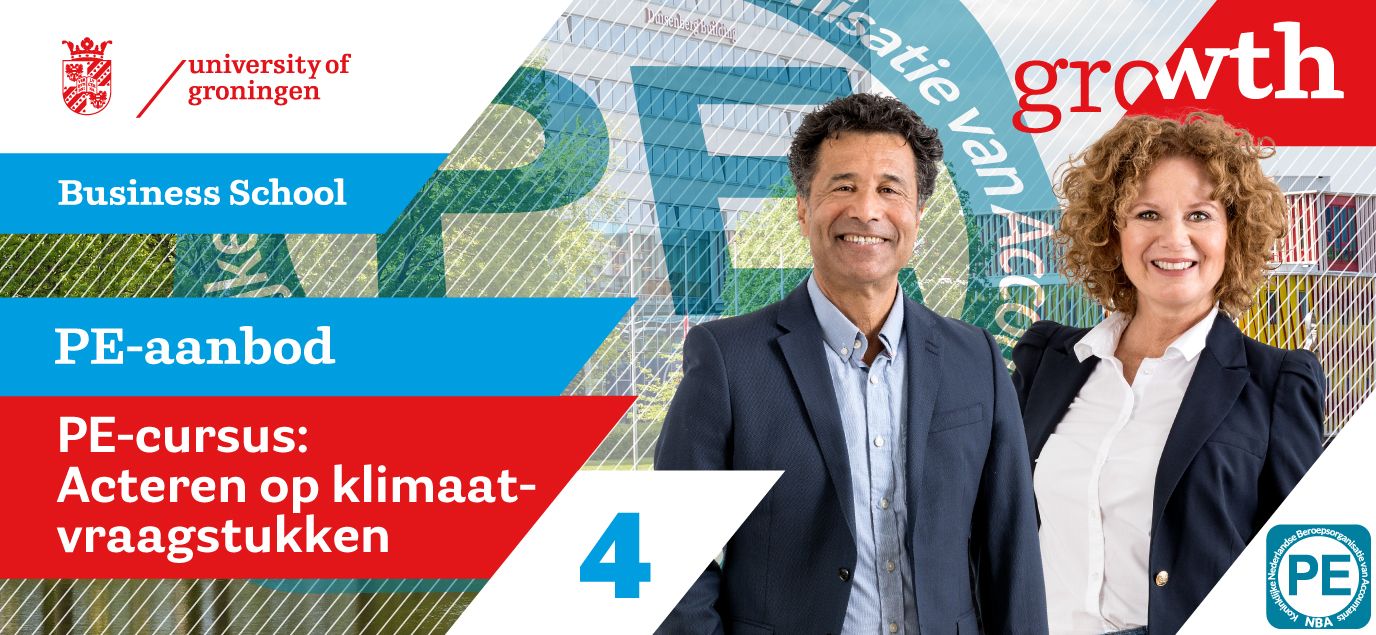 Krijg concrete handvatten om bij uzelf of uw klanten oplossingen voor klimaatvraagstukken op de agenda te zetten en bovendien de controllers- en toezichtsrol hierin uit te oefenen.
Wij bieden een praktijkgerichte, interactieve cursus van hoge academische kwaliteit.
| | |
| --- | --- |
| PE-punten | 4 (voor RA's en RC's) |
| Doelgroep | Accountants, bestuurders, controllers en toezichthouders |
Programmainhoud
Vanuit de politiek komt in toenemende mate druk op ondernemend Nederland om een bijdrage te leveren in de realisatie van de klimaatdoelstellingen uit het Parijs Akkoord. De meer dan 600 afspraken om de uitstoot van broeikassen tegen te gaan, hebben grote impact op organisaties in Nederland.
In deze cursus staan wij nadrukkelijk stil bij de maatschappelijke relevantie van het klimaatvraagstuk en de verantwoording daarover en welke concrete acties accountants, financials, bestuurders en toezichthouder kunnen ondernemen om hun bijdrage daaraan te leveren.
Na afronding heeft u concrete handvatten om:
bij uzelf of uw klanten oplossingen voor klimaatvraagstukken op de agenda te zetten
assurance-opdrachten uit te voeren die zijn gericht op verslaggeving omtrent CO2-uitstoot
CO2-reductie op de agenda te zetten van uw organisatie en ook op dat terrein de controllersrol op u te nemen
ook op het gebied van CO2-reductie invulling te geven aan uw rol als toezichthouder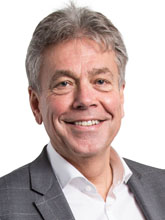 Kerndocent
Kerndocent van de PE-cursus: Acteren op klimaatvraagstukken is Dick de Waard, hoogleraar Auditing aan de Rijksuniversiteit Groningen. Hij verricht – onder andere samen met de NBA - onderzoek naar de rol van financiële professionals in de CO2-reductie.
De Groene Brigade
Voor Registeraccountants sluit deze cursus aan bij het NBA-programma (de Groene Brigade) om accountants in business, interne en overheidsaccountants en externe accountants bewust te doen worden van de belangrijke rol die zij (kunnen) spelen in de advisering en assurance ten aanzien hiervan.
---
VIDEO: Dick de Waard en financials uit de praktijk over de rol in CO2-reductie:
Als lid van de Beroepsorganisatie van Accountants kent u de verplichting van permanente educatie (PE) om uw deskundigheid op peil te houden. De University of Groningen Business School biedt u de mogelijkheid om te voldoen aan deze scholingsplicht. Wij werken hierin samen met de vakgroep Accountancy van de Rijksuniversiteit Groningen. Ook nu het PE-model van de NBA is veranderd, kunt u bij ons terecht voor kwaliteit en ondersteuning:
Ondersteuning bij het formuleren van leerdoelen
Onderwijs gebaseerd op recente academische inzichten
Inhoud die relevant is voor de praktijk van accountants
Individueel te volgen of met collega's bij uw organisatie in huis
Anouk Smand
M: (+31) 06 11 46 01 54
E: a.smand rug.nl
| | |
| --- | --- |
| Laatst gewijzigd: | 02 augustus 2023 11:21 |