Aanmelding en kosten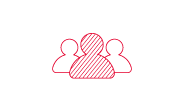 Deze opleiding is onlangs van start gegaan. Wilt u deelnemen aan de volgende editie (beginnend op 11 september 2020)? Schrijf u in of vraag een kennismakingsgesprek aan met de coördinator of de directeur van de opleiding.
In het kennismakingsgesprek verkennen we samen met u hoe deze opleiding aan uw professionele ontwikkeling kan bijdragen. Daarbij bespreken we ook de aanmeldings- en toelatingsprocedure en eventuele deficiënties.
Kosten
€ 5.900,-. Het collegegeld is vrijgesteld van btw en het is mogelijk om in termijnen te betalen.
Hoe financier ik mijn opleiding?
Klik hier voor de verschillende opties.
| | |
| --- | --- |
| Last modified: | 28 February 2020 11.06 a.m. |