Language levels and consultation
Ever wonder what language levels like A1 and B2 actually mean? This page will explain what the levels mean and how you can determine your own language level.
Levels explained
Each of our language courses comes with a starting level, and sometimes an attainment level. We use the language levels as set out in the Common European Framework of Reference for Languages (CEFR), an international standard for language levels: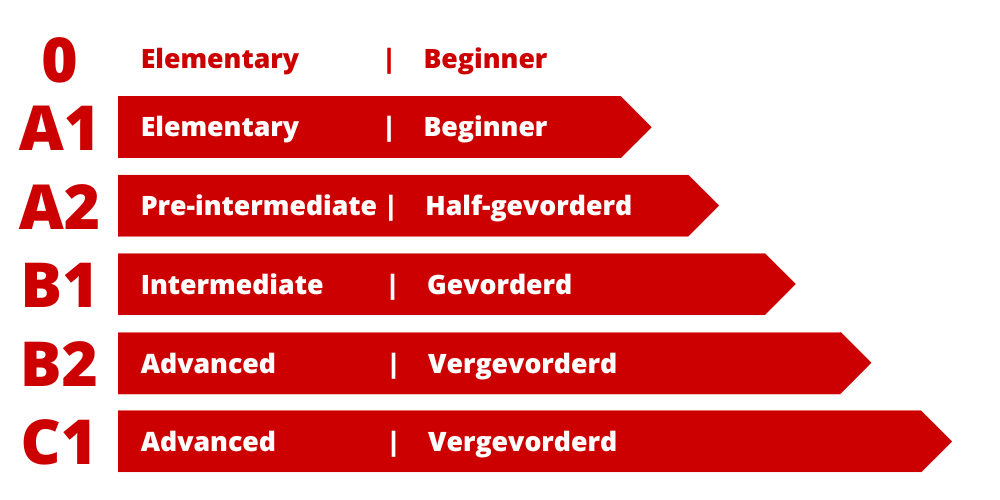 The starting level and attainment level are indicated in the title of each course. For example, the title Dutch A1>A2 means that the course starts at level A1 and that during the course, you will work towards the attainment level A2. We also work with sublevels: for example, the level between A1 and A2 is referred to as A1/A2.
These language levels apply to all four skills: reading, speaking, listening, and writing. You will have attained a level once you score sufficient marks for all of these skills.
---
What is my level?
Wondering which language level you have reached? There are a number of tests you can take online to determine your level. You can also attend a free consultation with a teacher at the Language Centre, which will result in a personal advice on your language level. This consultation is compulsory for some courses. This is indicated on the course pages.
Assessing your own level
Plan a consultation
| | |
| --- | --- |
| Last modified: | 03 October 2023 2.36 p.m. |