Online cursussen Nederlands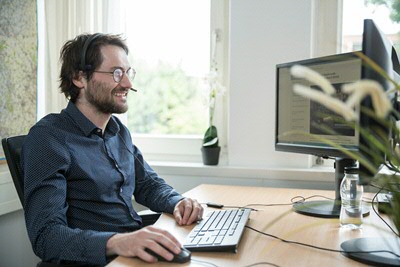 U wilt graag uw Nederlands in groepsverband verbeteren zonder vast te zitten aan tijd of plaats? Leer nu waar en wanneer u wilt, achter uw eigen computer. De online cursussen van het Talencentrum zijn zo ontworpen dat u het gewenste leerdoel op een gestructureerde manier bereikt. U leert Nederlands op een gevarieerde manier met een goede methode in een groep van minimaal 6 deelnemers.
De Online Dutch cursussen zijn volledig online en worden op 8 CEFR-niveaus aangeboden, van 0 tot en met C1. Kies in het menu uw juiste niveau om u direct in te schrijven voor een cursus.
---
Duur
8 weken
De cursus duurt 8 weken waarin u intensief wordt begeleid. De cursus staat gedurende 12 weken tot uw beschikking. In deze resterende weken kunt u bepaalde opdrachten herhalen met medecursisten en/of extra oefeningen maken.
Studiebelasting
8 – 10 uur per week
U werkt gedurende acht weken intensief aan uw Nederlandse taalvaardigheid. Om succesvol te zijn wordt u geacht om gedurende de cursusperiode gemiddeld 8-10 uur per week aan uw Nederlands te besteden.
Cursusmateriaal
De cursussen zijn gebaseerd op methodes Nederlands die bij het Talencentrum zijn ontwikkeld, namelijk Nederlands in gang, Nederlands in actie, Nederlands op niveau en Nederlands naar perfectie. Iedere methode bestaat uit een boek en een zeer uitgebreide website met oefeningen en luistermateriaal. Deze methodes zijn niet bij de cursusprijs inbegrepen maar moeten afzonderlijk worden aangeschaft.
Computer- en internetvereisten
De cursus is volledig online en wordt aangeboden in de online leeromgeving van de universiteit. Dit houdt in dat u moet beschikken over een gedegen internetverbinding (Glasvezel, ADSL of Kabel vanaf 4Mbps / 128kbps) en dat uw laptop of desktop goede video- en audioinstellingen moet hebben. Om de spreekvaardigheid te oefenen moet u beschikken over een webcam en een microfoon. De online cursus werkt het beste met de browsers Firefox of Chrome.
Elektronische leeromgeving
De cursus wordt aangeboden in de leeromgeving van de Rijksuniversiteit Groningen. De cursusomgeving geeft een duidelijk overzicht van wat er van u tijdens de cursus wordt verwacht. Daarnaast zijn er per cursus nuttige websites en tips die u extra zullen helpen.
Schrijf- en spreekopdrachten
Er zijn verschillende typen opdrachten, namelijk zelfstudieopdrachten, toetsen en schrijfopdrachten. Bovendien zijn er verschillende spreekopdrachten waarmee u uw spreekvaardigheid oefent. Er zijn spreekopdrachten die u zelfstandig maakt, spreekopdrachten in tweetallen en spreekopdrachten in groepen. Voor de spreekopdrachten maken we in onze online cursussen gebruik van de technologie van SpeakApps.
Interactieve groepssessies
Er zijn vier online groepssessies met uw docent. Deze sessies vinden plaats in week 1, 2, 5 en 8 van de cursus. Voor de groepssessies maken we gebruik van Blackboard Collaborate, Skype en/of andere online communicatiemiddelen zoals Hangouts of Appear.in.
Minimaal aantal deelnemers
Het minimale aantal deelnemers is 6. De online cursus is geschikt voor grote groepen cursisten. Voor bepaalde opdrachten wordt u ingedeeld in kleinere groepen.
Advies en bewijs van deelname
Aan het eind van de cursus krijgt u een advies voor het vervolg op basis van uw toetsresultaten, prestaties in de cursus, schrijfopdrachten en spreekopdrachten. U kunt daarna een bewijs van deelname aanvragen.
---
| | |
| --- | --- |
| Laatst gewijzigd: | 14 november 2018 15:59 |