Het tweede GDBC-event: een inspirerende middag op een prachtige locatie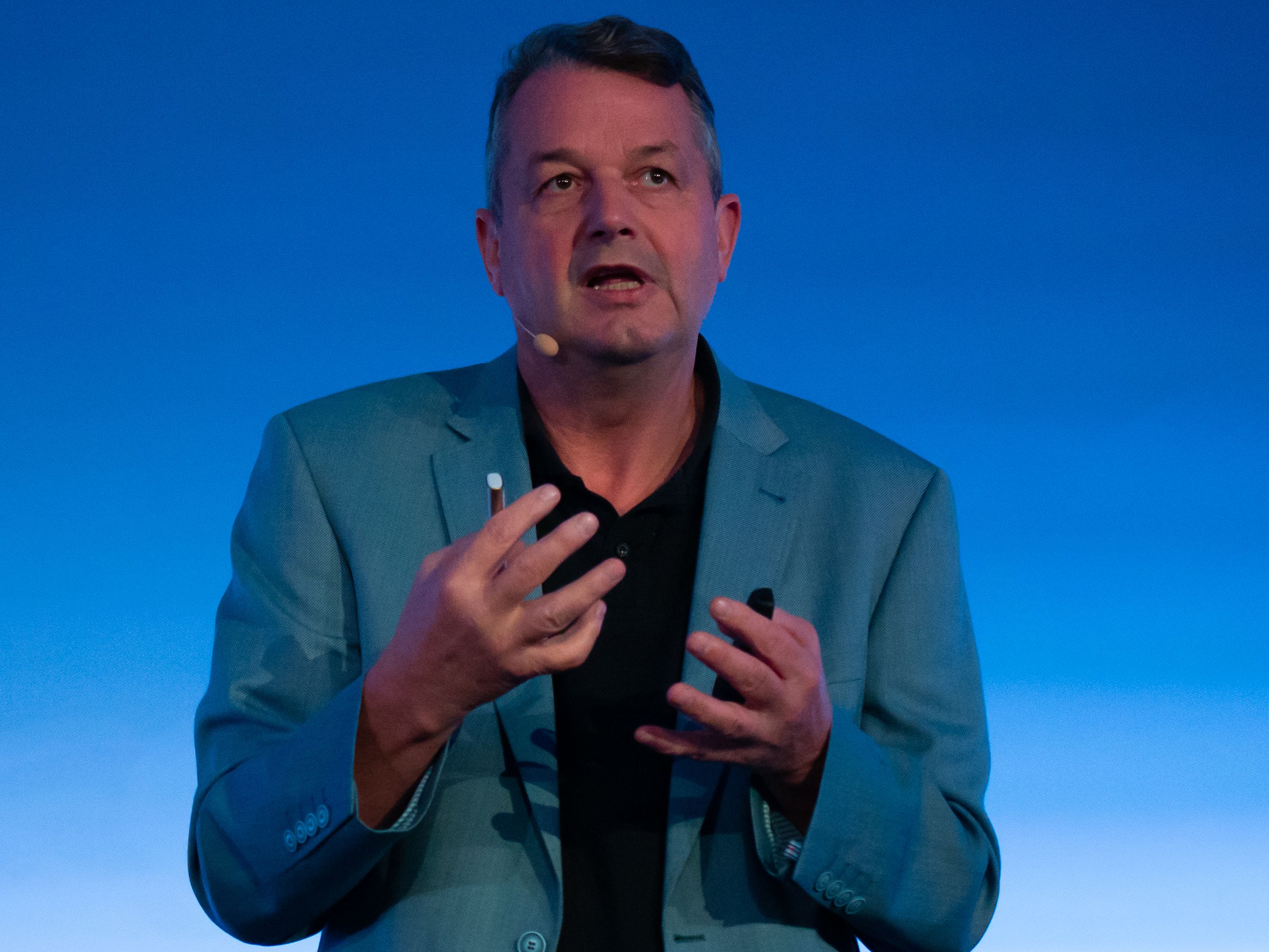 [English version below]
Het tweede event van het Groningen Digital Business Centre vond afgelopen week plaats en dit was wederom een inspirerende middag. Na de opening op 3 april hebben we bij het GDBC namelijk allesbehalve stilgezeten. Het tweede event diende dan ook als de perfecte gelegenheid om de laatste ins en outs rondom Digital Business te bespreken. De theaterzaal van DOT Groningen vulde zich onder anderen met vele ondernemers, RUG-medewerkers en een relatief groot aantal studenten. Een prachtige locatie om verscheidene presentaties te beluisteren en ideeën uit te wisselen.
Een groot aantal bezoekers kwam op dit tweede event af, waar GDBC-directeur Peter Verhoef het spits afbeet. In de afgelopen maanden zijn er veel nieuwe, mooie partners aangesloten bij het expertisecentrum. Deze samenwerkingen zijn van grote betekenis voor het versterken van de digitale sector in Noord-Nederland: het uitgangspunt van het GDBC. Dit belang werd eveneens aangekaart in de korte toespraak van Joost van Keulen (Gemeente Groningen), want door de digitalistering zijn er nog altijd veel bedrijven die worstelen met deze ontwikkeling.
En wat kunnen we de komende jaren verwachten van retail in het licht van digitalisering? Dat werd duidelijk in de presentatie van Wijnand Jongen, CEO van Thuiswinkel.org. Hij gaf verschillende voorbeelden van nieuwe ontwikkelingen en dat klonk op zijn zachts gezegd veelbelovend. Kassaloze supermarkten, betalen met gezichtsherkenning of boodschappen doen met behulp van kunstmatige intelligentie: zo zie je gelijk welke avocado rijp is of wat voor producten gezond. De virtuele assistentie gaat steeds een stapje verder met het oog op ons kostbaarste bezit, namelijk tijd. Zodoende wordt ons leven continu gemakkelijker gemaakt. Wijnand Jongen sloot zijn presentatie af met het advies om deze technologieën te omarmen en de generaties te volgen: "Durf out of the boxte denken waar dit u bijstaat".
Deze inspirerende presentatie werd gevolgd door twee parallelle sessies. Thijs Broekhuizen, RUG-hoofddocent Innovation Management & Strategy, vertelde tijdens zijn workshop meer over digitale transformatie en hoe dit bestaande businessmodellen verandert. Ondertussen gaf Professor P.K. Kannan (University of Maryland, USA) inzicht in zogeheten attributiemodellen. Uit zijn onderzoeken is namelijk naar voren gekomen dat alle touchpoints binnen de klantreis van invloed kunnen zijn op conversies. Dit betekent dat je als marketeer moet waken voor het onder- of overwaarderen van bepaalde marketingactiviteiten. Bovendien werd het heugelijke nieuws medegedeeld dat P.K. Kannen aangesteld is als hoogleraar bij het GDBC.
De middag werd afgesloten door Marcel Gerritsen, directeur Strategie & Innovatie van Rabobank. Hij legde in zijn presentatie uit hoe ze bij Rabobank investeren om ondernemers te helpen met groeien dankzij data. Want digitale transformatie en innovatie is nou eenmaal moeilijk, er heerst een behoefte om samen met de klant businessmodellen op te zetten. Je kunt als ondernemer de digitalisering als een bedreiging zien, maar ook zeker als een kans. Dus ga hier vooral mee aan de slag, gaf Marcel Gerritsen mee. Ter afsluiting werd het contract tussen Rabobank en het GDBC getekend.
Na afloop verzamelde de bezoekers zich in de foyer van DOT, waar de middag nabesproken werd onder het genot van een hapje en een drankje. Het GDBC kijkt positief terug op dit tweede event, al liep het tot onze grote spijt wel te veel uit in tijd. Hierdoor waren sommige bezoekers genoodzaakt om het event eerder te verlaten, iets wat wij graag hadden willen voorkomen. Daarvoor onze excuses. Desondanks hoopt het GDBC u in het voorjaar van 2019 weer te mogen verwelkomen.

Bekijk de foto-impressie >>

Programma tweede GDBC-event >>
[English version]
The second GDBC event - an inspiring afternoon at a spectacular location
The second event of the Groningen Digital Business Centre (GDBC) took place last Friday and it was - again - an inspiring afternoon. The GDBC opened its doors on 3 April this year and has definitely not been idle since then. This second event was the perfect opportunity to discuss the latest ins and outs of Digital Business. The DOT Groningen theatre was filled with entrepreneurs, UG staff and relatively many students - a beautiful location where participants could attend various presentations and exchange ideas.
GDBC director Peter Verhoef was the first to take the floor. Many new partners have joined the centre of expertise in the past few months. These collaborations are very important to be able to strengthen the digital sector in the Northern Netherlands, which is the GDBC's starting point. Joost van Keulen of the Municipality of Groningen also stressed this in his speech, as there are still many businesses that struggle with digitization.
And, in the years to come, what can be expected of retail in the light of digitization? This question was prompted in the presentation by Wijnand Jongen, CEO of Thuiswinkel.org. He gave various examples of new developments, which sounded promising to say the least: from supermarkets without cash registers to face recognition or doing your shopping aided by artificial intelligence - the system will tell you immediately if an avocado is ripe or which products are healthy. Virtual assistance is making progress, all with an eye to our most precious possession: time. Our lives are constantly made easier this way. Wijnand Jongen concluded his presentation by saying that we should embrace these technologies and follow the generations to come: 'Try to think out of the box whenever it can help you.'
This inspiring presentation was followed by two parallel sessions. In his workshop, UG's Associate Professor in Innovation Management & Strategy Thijs Broekhuizen explained more about digital transformation and how this influences existing business models. Meanwhile Professor P.K. Kannan of the University of Maryland provided an insight in so-called attribution models. His research has shown that all 'touchpoints' in the 'customer journey' can have an effect on conversions. This means that marketeers have to be careful not to over- or undervalue certain marketing activities. After these sessions, the wonderful news that P.K. Kannan has been appointed professor at the GDBC was shared.
The afternoon was concluded by Marcel Gerritsen, Director of Strategy & Innovation for Rabobank. In his presentation, he explained how Rabobank's investments help entrepreneurs to grow thanks to data. Digital transformation and innovation is complicated. That's a given. So there is the need to set up business models together with the client. Entrepreneurs can consider digitization a threat but definitely also an opportunity. 'So go for it', was Marcel Gerritsen's advice. At the end, the contract between Rabobank and the GDBC was signed.
After the programme, many visitors joined the drinks party in DOT's foyer and evaluated the afternoon. The GDBC looks back on the event with satisfaction, although it ended much later than intended. Some guests therefore had to leave before the programme had finished, which was not our intention. The GDBC apologizes for this and hopes to welcome you to their next event in spring 2019.

Click here for a photo impression of the event >>

Click here for the event programme >>
Tags:
digital
,
kennisdelingsevent
,
DOT
,
Thijs Broekhuizen
,
13 november 2018
,
Wijnand Jongen
,
P.K. Kannan
,
evenement
,
gdbc
,
event GDBC
,
Marcel Gerritsen
,
dot
,
Peter Scheij
,
Joost van Keulen
,
kennisdeling
,
event
,
tweede GDBC-event
,
Groningen Digital Business Centre
,
2018