M&A from strategy to integration
Classes in the financial district of Amsterdam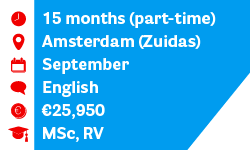 M&A is increasingly important
Mergers and Acquisitions (M&As) are increasingly important tools for meeting strategic objectives and creating competitive advantage. Many companies face unprecedented technological and market disruption. COVID-19 is compounding these effects. M&A helps them in this fast-changing world to both defend and enhance their competitive position.
Drive your career in M&A forward
The growing importance of M&A gives you a major career opportunity. Offered by the University of Groningen Business School and VU Amsterdam SBE Executive Education, the Executive Master of M&A and Valuation provides the training you need to have true impact in deals and valuation and drive your career forward. The career path of our alumni, many of which have gained leadership positions, clearly demonstrates that the programme offers what it what it takes to move ahead in M&A.
1. You will learn M&As as a multidisciplinary practice
M&As involve many functions including corporate strategy, industry economics, finance, valuation, accounting, organization and change management, as well as legal and tax expertise. You will learn to apply these skills coherently in the M&A field.
2. You will learn M&As as a multistage process
Successful M&A requires flawless execution of every stage of the process, from strategy formulation in the pre-deal stage through the deal stage and the integration or separation stage. You will learn the relevant aspects of each stage, how the stages build on each other and their crucial linkages.
3. You will become proficient in the thorough valuation skills required for successful M&A
M&A is about gaining a competitive edge and creating value. Skills in valuation and value creation analysis are therefore indispensable for M&A professionals. You will develop valuation skills firmly embedded in the M&A process, with a tailored focus on each individual stage.
4. Case – based teaching means you can apply the knowledge you acquire from day one
Teaching is case driven, with unique real-world case studies designed specifically for our programme. The practical real-world setting means you can apply the knowledge you acquire immediately.
5. A mix of authoritative lecturers from both professional practice and academia provide you with a balanced perspective
You will be taught by a mix of practitioners, all of whom are respected authorities in their fields, and world-class academic staff. The practitioners will provide you with insights into real-life practical aspects of M&As while the academics will offer insights that will outlast the latest trends and current fads.
---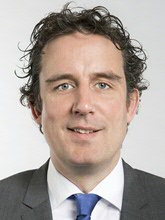 'If you look at the investment memos that we prepare for potential new acquisitions you will basically see all aspects of the Executive Master of M&A and Valuation reflected. As such, I would recommend this course to anyone involved in Private Equity settings.'
Read more about the experience of Gijs van Reen, Operating Managing Director at Parcom Capital
| | |
| --- | --- |
| Last modified: | 15 September 2021 4.15 p.m. |