Russian
Добро пожаловать на урок русского языка!
During the Russian language course of the University of Groningen Language Centre you will first learn the Cyrillic script, in order to be able to read and write Russian. You will also learn to read and speak in Russian and communicate about everyday subjects such as working, eating and drinking and hobbies.
Grammar is not a goal in itself, but will be used to support language acquisition. Much attention will be paid to speaking and acquiring a basic vocabulary. At the end of this Russian course you will be able to introduce yourself, order in a restaurant, ask for directions and understand and write simple texts. You will also be introduced to several cultural aspects of Russia.
Language of Instruction
The target language is the language of instruction as much as possible. When necessary, the course is taught in Dutch and/or English. The course material is in Dutch or English.
---
These courses will be taught as an online interactive group course via Blackboard Collaborate; our online classroom for the coming period! One lesson lasts 90 minutes. Per lesson you should count on 2-3 hours of self-study for the beginners' course, and 4-6 hours for the higher levels. Read here everything you can expect from an online language course.
---
Schedule and registration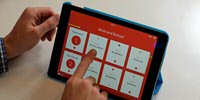 | | |
| --- | --- |
| Last modified: | 05 August 2020 09.48 a.m. |