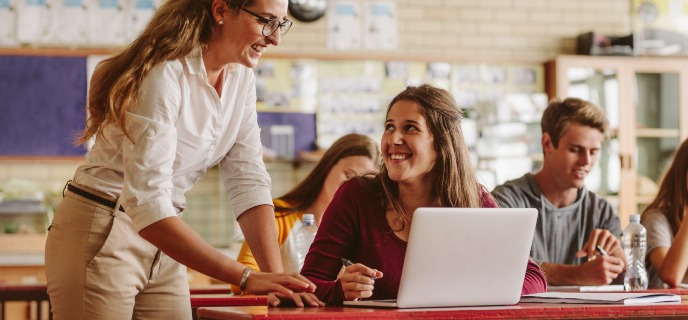 Hoe bereid je je leerlingen voor op het correct gebruiken van academische taal in een studie op het hbo of de universiteit? In de workshops voor middelbareschooldocenten van het Talencentrum Rijksuniversiteit Groningen krijg je tips om goed op taal van leerlingen te letten, zelfs als je zelf niet zo talig bent.
Al onze workshops worden gegeven door gepassioneerde docenten die lesgeven aan de universiteit en die dus goed weten wat de leerlingen straks te wachten staat. De workshops kunnen naar wens op elk moment van het jaar aangeboden worden.
Workshops
Docentenworkshop In een mum van tijd feedback op taalvaardigheid
Hoe kun je als niet-talendocent beter letten op de taal van leerlingen? In een interactieve bijeenkomst van 1,5 uur discussiëren we met de docenten over het belang van taal, hoe jouw school vakoverstijgend aandacht kan geven aan taal en wat jij zelf in de les kunt doen om taalontwikkeling te bevorderen. En dit alles zonder dat het jou als docent extra tijd kost!
Docentenworkshop Academische vaardigheden
Hoe geef je als docent de schrijfproducten van je vwo 5- en 6-leerlingen een kwaliteitsimpuls? In een workshop van 1,5 uur fris je je eigen kennis over academische vaardigheden op, en laten wij zien waar jij op kunt letten wanneer je je leerlingen voorbereidt op een wetenschappelijke studie.
Vraag gratis en vrijblijvend een intakegesprek aan wanneer je geïnteresseerd bent in één of meerdere van bovenstaande workshops. Samen kijken we vervolgens hoe we die workshops op jouw wensen kunnen aanpassen.
---
| | |
| --- | --- |
| Laatst gewijzigd: | 10 oktober 2023 10:31 |