Jaarlijks ontwikkelt het Customer Insights Center van de Rijksuniversiteit Groningen (RUGCIC) drie onderzoeksrapporten met wetenschappelijke klantinzichten over actuele en relevante thema's voor marketingmanagers.
Nieuwe onderzoeksrapporten
Het nieuwste rapport is net verschenen en automatisch verzonden aan de vaste contactpersonen van onze bedrijfsleden. Ondertussen zijn we ook alweer druk bezig met het volgende rapport dat later dit jaar zal verschijnen.
Verschenen onderzoeksrapporten
De korte managementsamenvattingen en inhoudsopgaven van eerder verschenen onderzoeksrapporten zijn hieronder in de tabel voor iedereen gratis te downloaden (tweetalig: Nederlands en Engels). Mocht je meer willen dan kun je de complete versies onderaan deze pagina opvragen, mits je bedrijf lid is...
Volledig rapport ontvangen?
De complete versies van onze onderzoeksrapporten worden exclusief voor leden van het Customer Insights Center van de Rijksuniversiteit Groningen ontwikkeld.
Zij kunnen zolang de voorraad strekt gratis enkele volledige exemplaren bijbestellen via cic rug.nl.
Vergeet niet te vermelden of je een hardcopy boek of een PDF wilt en welke taal jouw voorkeur heeft: Nederlands of Engels?
Het is voor niet-leden helaas niet mogelijk om rapporten te bestellen gezien de hoge ontwikkelkostprijs. Wij vragen hiervoor begrip.
---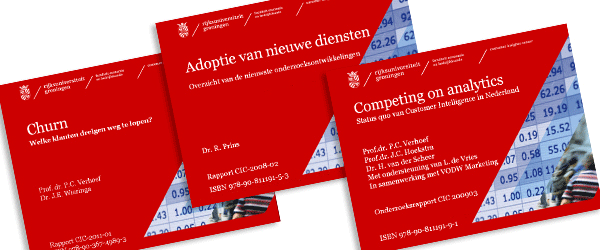 | | |
| --- | --- |
| Laatst gewijzigd: | 18 maart 2021 13:42 |