Khoi Nguyen over zijn onderzoeksopdracht: 'De focus ligt op digitale readiness'
| | |
| --- | --- |
| Datum: | 04 oktober 2018 |
| Auteur: | drs. ing. Bas Baalmans |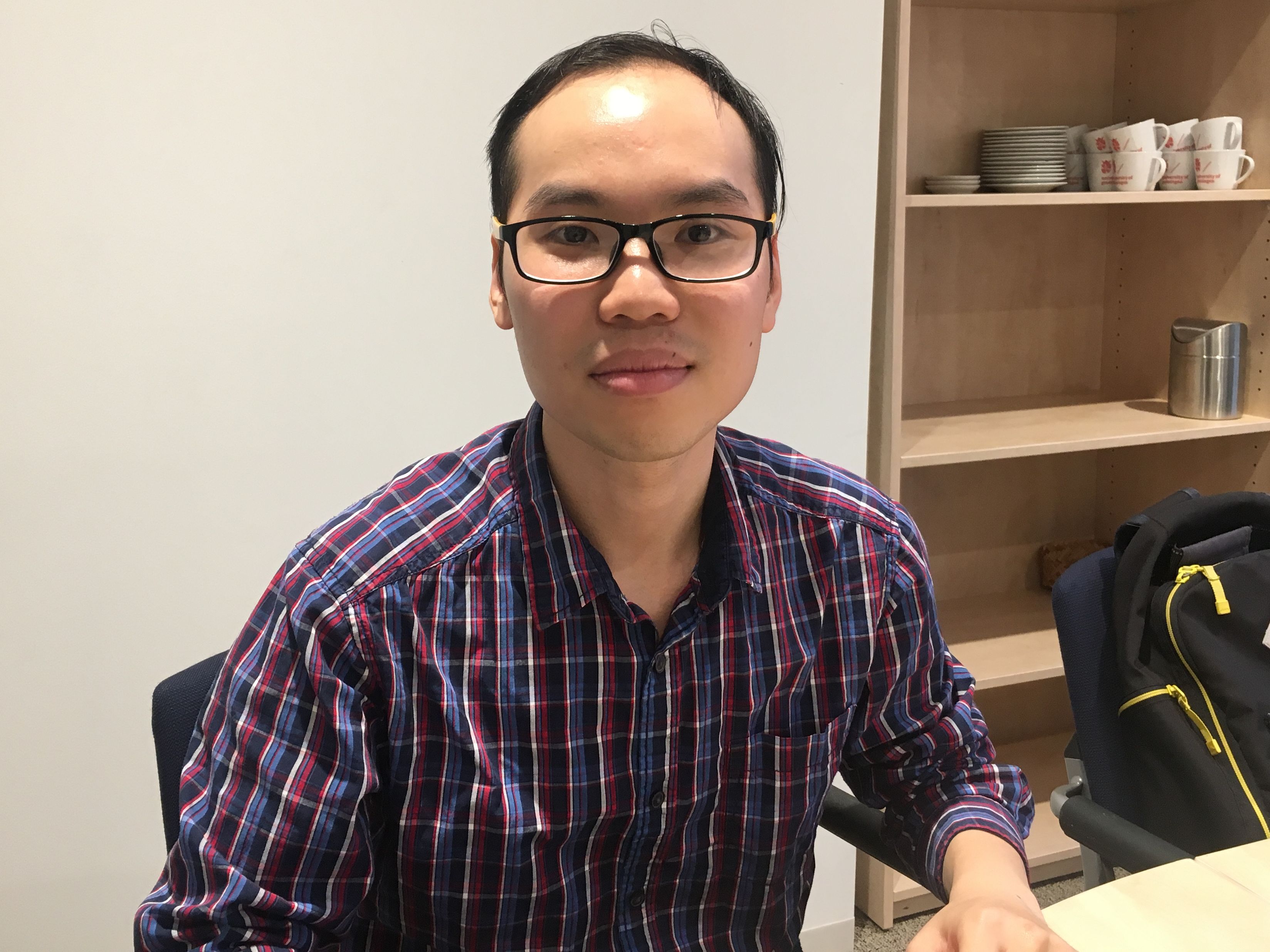 [English version below] Khoi Nguyen (25) is geboren in Vietnam. Na zijn verblijf in Finland op de universiteit in Oulu, is hij in september in Groningen neergestreken als onderzoeker bij het Groningen Digital Business Centre. Dit is het samenwerkingsinitiatief van de faculteiten Economie en Bedrijfskunde en Science and Engineering samen met de Noordelijke Online Ondernemers. Waarom koos Khoi voor het buitenland?
"In Vietnam ligt veel meer de nadruk op onderwijs en nauwelijks op onderzoek. Gaandeweg mijn werk als assistent van een hoogleraar in Vietnam, ontdekte ik meer en meer dat onderzoek doen is waar mijn hart ligt en waar mijn passie zit. Dat betekende dan ook dat het buitenland een volgende stap voor mij zou zijn", licht Khoi toe. Zodra het over onderzoek gaat zie je de ogen glinsteren bij de jonge Vietnamees, daarmee verraadt hij direct dat daar inderdaad zijn ziel en zaligheid in zit.
De volgende vraag, waarom dan Groningen, vraagt wat meer denkwerk bij hem. "Ik wil gaan voor een PhD. Hier was een vacature en na mijn sollicitatiegesprekken met onder andere Peter Verhoef is het snel gegaan." Hij voelt zich al goed thuis in Groningen, ondanks dat hij er nog maar nauwelijks een maand is. "Vooraf was ik wat angstig voor de huisvestingproblematiek in Groningen, maar dat viel mee en ik heb nu een prima woonplek. Groningen is verder aanzienlijk drukker dan het Finse Oulu en daarmee ook een stuk interessanter." De jonge onderzoeker heeft verder veel contact met zijn collega-eerstejaars-PhD's. Zo is er een heuse Facebookpagina voor Vietnamezen in Groningen waar afspraken worden gemaakt om bijvoorbeeld gezamenlijk festivals te bezoeken.
Zijn onderzoeksopdracht gaat over digitale readiness. Een opdracht die zeer dicht aan schurkt tegen die van zijn collega-onderzoeker bij het GDBC, Nicolai Fabian. "Ja dat klopt inderdaad. Nicolai heeft meer focus op digitale transformatie. Bij mij gaat het vooral om digitale readiness. We trekken dan ook veel samen op en hebben beiden Peter Verhoef, Thijs Broekhuizen en John Dong als begeleiders vanuit de Rijksuniversiteit Groningen. De combinatie met het GDBC is zeer wenselijk, want via Bas Baalmans wordt de connectie gelegd met de bedrijven. Hiermee wordt het onderzoek doen voor de ondernemers uitermate interessant", aldus Khoi.
Het einddoel van het onderzoek moet een publicatie worden en voor Khoi heeft het persoonlijk ook meerwaarde dat hij middels dit onderzoek kennis op gaat doen waar hij nog niet veel van heeft. Bijvoorbeeld het werken met organisaties, waar dat voorheen veel meer met individuen was. Zijn ambitie is uiteindelijk hoogleraar te worden op een universiteit, ergens op de wereld. Voorkeur voor een land of plaats heeft hij nog niet echt.
Het onderzoekswerk is intensief en daarom is het zaak om ook tijd voor andere zaken te hebben. "Ik game, maar koken en bakken vind ik ook heel leuk om te doen. Daar haal ik mijn ontspanning uit als ik niet in het Duisenberg gebouw te vinden ben en werk aan mijn onderzoek", lacht Khoi ten slotte.
[English version]
Khoi Nguyen (25) was born in Vietnam and after his stay in Finland at the university in Oulu he settled in Groningen in September. What was the reason for Khoi to choose to go abroad?
"In Vietnam much more time and energy is placed on education and hardly on research and during my work as an assistant of a professor in Vietnam I discovered more and more that research is where my heart is, where my passion lies. So that meant that going abroad would be the next step for me, "explains Khoi. As soon as the talk goes about research, you see the eyes lighten up from the young Vietnamese. That's what he likes the most.
The next question is then of course why he choosed Groningen. "I want to go for a PhD. Here was the vacancy and after my job interviews with, among others, Peter Verhoef it went fast. "He already feels at home in Groningen, even though he is barely a month here. "Beforehand, I was somewhat anxious about the housing problems in Groningen, but that went well and I am now in a good place to live. Groningen is also much more crowded and busier than the Finnish Oulu and therefore also a lot more interesting. "The young researcher also has a lot of contact with his fellow first-year PhDs and there is a Facebook page for Vietnamese in Groningen where agreements are made to visit festivals together.
His research assignment is about digital readiness. An assignment that is very close to that of his fellow researcher at the GDBC, Nicolai Fabian. "Yes, that is indeed true. Nicolai has more focus on digital transformation. For me it is more about digital readiness. We work a lot together and also have the same supervisors from the University of Groningen with the professors Peter Verhoef, Thijs Broekhuizen and John Dong. The combination with the GDBC is perfect because with the Managing Director Bas Baalmans the connection is made with the companies with which the research becomes extremely interesting for the entrepreneurs ", says Khoi.
The final goal of the research must be a publication and for Khoi personally he also finds it important that he will use this research to learn new things he did not know before. For example working with organizations, where previously it was much more with individuals. His personal ambition is ultimately to become a professor at a university somewhere in the world. He does not really have a preference for land or city yet.
The research work is intensive and therefore it is important to also have time for other matters. "I love gaming, but I also enjoy cooking and baking. That is how I get relaxed when I am not in the Duisenberg building and busy with my research", Khoi laughs.
Over de auteur
drs. ing. Bas Baalmans