The organizational implications of digital transformation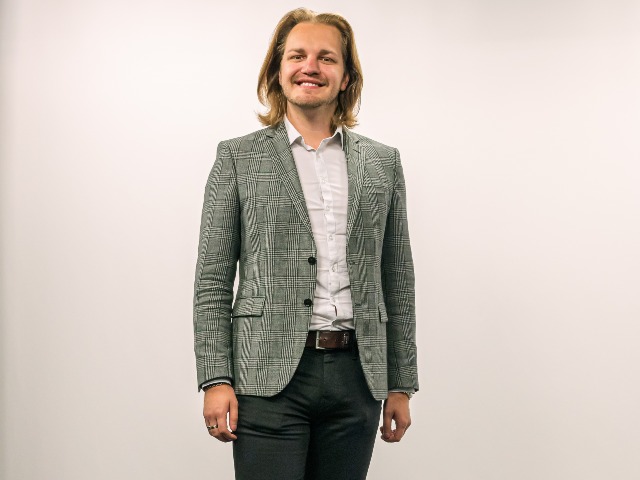 Digital technologies deeply affect our lives, both on a personal and professional level. Digital transformation, the adoption of digital technology in all areas of a business, will have deep consequences for how companies operate and the way they create and deliver value. Thus, firms need to find a way to integrate such technology successfully to be future proof. Nicolai Fabian, Assistant Professor of Information Systems at FEB, finds it fascinating how organizations adopt technologies and manage the process of change. After Covid 19 hit us, that becoming more digital is vital for companies is nothing new. In his PhD thesis, which he will defend on 31 October, Fabian sheds light on the implications of digital transformation for organizations, with focus on small to medium enterprises (SME) in the third chapter.
When Fabian started his PhD project in 2018/2019, it was rather surprising to him that not much was yet known about digital transformation, at least not in a summarized manner. "Following that, I conducted my literature review and saw that we also do not have much empirical knowledge about digital transformation, which basically led to my second study, which focused on digital transform in SME firms (Chapter 3 of the dissertation). I also wanted to know more about perception, and saw that most research focuses on internal questions, ignoring external/peer pressure (Chapter 4 of the dissertation)."
Balancing act
In his PhD thesis, the now assistant professor found that for SME, being overly radical in their approach to change could harm the digital transformation in these firms. "While digital transformation is conceptualized as something radical, we found that radical orientation towards change actually harms the performance. At the same time, SMEs need to overcome rigidity and established ways of working. Thus, it is an interesting balancing act for SMEs to find the sweet spot in which they are radical enough to overcome established practices but at the same time leave enough space to learn the ropes properly. In short, digital transformation and digital technologies cause fundamental shifts in organizations, and firms have to balance the need to be radically new as well as appear radically changed", Fabian explains.
On a societal level, the adoption of digital technologies causes all sorts of challenges (e.g., filter bubbles, AI bias). Thus, better understanding the implications of digital transformation has important value for organizations. Fabian: "While my research deals with organizations specifically, a part of the societal importance for the second part of my thesis comes from the SME firms. Such firms represent an important part of the economy. Therefore, better understanding under which conditions digital transformation is important is vital for their success and by extension vital for the job security of their employees."
Two sides of a coin
Both Fabian and his FEB-colleague Dinh Khoi Nguyen, who defended his PhD thesis on the 27th of October, deal with digital transformation and technologies in their research. Their work is the analogy of two sides of a coin. "We look very much at different sides. My research deals much more with the implications of digital transformation, potential influence factors and external pressure. While Khoi's work deals much more with the drivers, with which factors promote transformation in the first place. Moreover, Khoi also looks at managers and their perception, while I much more focus on the bigger picture. In that sense, we asked different questions at different levels. Thus, if you are into digital transformation, you might want to have a look at both our work", the assistant professor states.
Rapid changes
Fabian always finds it surprising what type of change digital technologies bring forward. "Let me give an example, the Dutch translation of my dissertation was done by AI and machine learning, and was checked by a native speaker afterwards with only minor comments. Looking back at my time in school, I would have wished to have such technology at my disposal back then. Now linking back to my PhD project, I think the most surprising fact of my research is what is/will be possible with the use of digital technologies in a very short timeframe."
These rapid changes make digital transformation is an ongoing process, the assistant professor thus looks forward to continuing his research on the topic. "On the one hand, not all of my studies are yet published and thus a lot of work is still ahead. Moreover, I also have many more questions to answer, for example on how firms can successfully reach digital transformation and which elements are needed in an organization (teaser from our latest conference paper, having a chief digital officer is not a must to be successful). Aside from that, I also want to know more about specific technologies. I am especially interested in the implications of AI, machine learning and algorithms. Hence, I also started projects that examine the implications of such technology. For example, looking into questions such as to what degree should we govern or be governed by technology and to what degree should we blindly follow algorithms."
More information
Nicolai Fabian will defend his PhD thesis on the 31st of October. You can read his dissertation online.