AI, innovation & society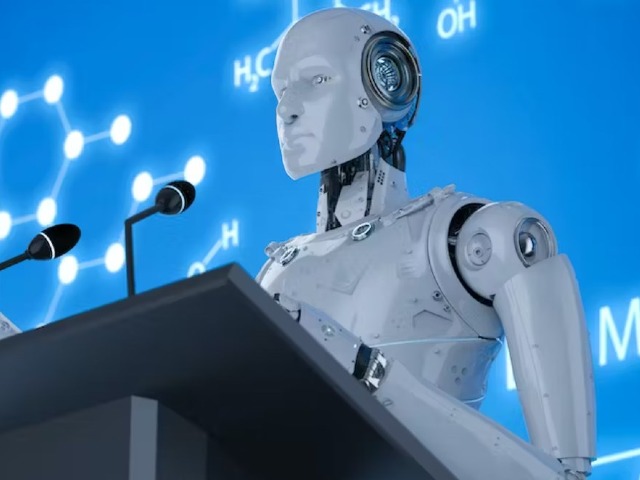 Will AI lead to the next large revolution in human productivity? Will it solve the mysteries of science? Or will it wipe-out humankind as we know it?
When considering the potential implications of AI in the future, it is important to consider your (moral) opinion and role in it.
Coming semester, you as a student will have the chance to participate in the learning community "AI and Society". This includes lectures and workshops that feature experts from both academia and industry.
Also, you will gain hands-on experience by working in a multidisciplinary team to implement the acquired knowledge. This practical application of AI will provide an understanding of the current and future applications of the technology, while offering a meaningful assignment for a company.
Implications of AI in Society
The aim of this learning community is to present a comprehensive overview of the potential implications and risks of AI in society. Each session consists of presentations and workshops that focus on a specific topic, such as digital inclusivity, language model bias, AI's impact on the labour market, existential risks of AI, and AI's implications for the law.
Following the workshops, students from all faculties are assigned to multidisciplinary projects organized by companies. Through an unbiased selection procedure, a multidisciplinary team is assembled. A team selection tool is used to identify the strengths and weaknesses of the team and is then used to guide the team's progress during the consultancy phase of the program. This provides an ideal opportunity to learn how to work collaboratively as a consultant. By participating in this program, you can gain a comprehensive understanding of the newest advancements in the field of AI and connections that will support your decisions about your future.
Are you interested in working on this topic in one of the most impressive buildings in Groningen? The University of Groningen is offering an opportunity for students from different faculties, as well as experienced international organizations from The Netherlands, to collaborate and make progress in this area.
Learning Community

In short, the learning community aims to:
● Connect students and organizations (working with AI) in the region and execute consultancy-based assignments.
● Attending interesting lectures and workshops all related to the latest developments in AI.
● Work within an interdisciplinary platform at the House of Connection
● Work together with students from other faculties
● Meet professors and companies from different backgrounds.
● Learn what career possibilities are available for you
Multi-disciplinary

The challenges are intended for students from all faculties and levels. The interdisciplinary format of these assignments makes them unique. We will select students from different backgrounds to perform an assignment for an organization. This is a great way to work together and pick up real working experience.
Also, the staff (mentors, lecturers) will be attracted from multiple faculties and for their interest and ability to look at problems from multiple perspectives.
We will specifically provide training in interdisciplinary and transdisciplinary collaboration, to enable fruitful engagement across disciplines and types of organisations.
The learning community is organized as a project of the Jantina Tammes School, and the Groningen Digital Business Centre. The Jantina Tammes School is the University of Groningen's interdisciplinary center dedicated to digital society, technology and artificial intelligence (AI). Samenwerking Noord has almost 100 public and private member organizations, you will be invited to carry out a research assignment for one of these organizations. And the NOO can deliver interesting knowledge in the field of digital and data.
Program
● Introduction companies/ institutions
● Selection teams by matchmaking/ concept battle students
● Consultancy assignments on behalf of a company
● Guest lectures by professors and business professionals
● Workshop on cross-disciplinary collaboration and on working across sectors
● Network sessions/ company visit
● Poster presentation House of Connections
● Wrap up/ drinks House of Connections
● Time investment for students: 2 / 3 hours a week, during semester II
Enroll

Please subscribe here.