GroUp Student Challenge 2022 Sweden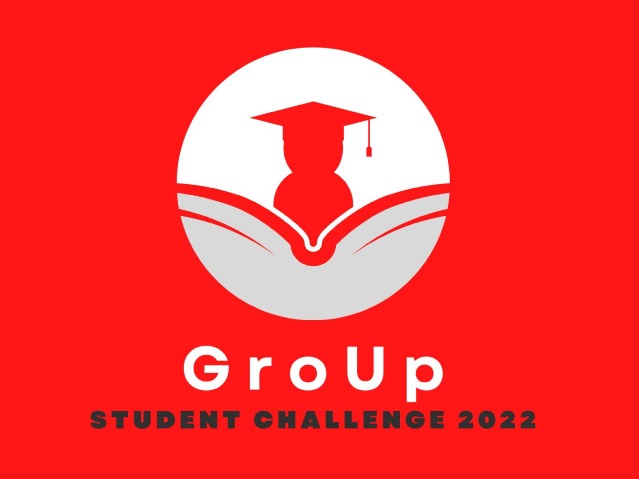 "Finding the right path after graduation…"
Do you or your friends find it difficult to decide what you want to do after graduation?
And are you interested to co-create the future of how European students will be supported in their search for the right path in one of the coolest cities in Europe? Come and join students from different faculties of the University of Groningen and of Uppsala University (Sweden) as well as experienced international organisations from The Netherlands and Sweden.
A Europe-wide problem
We are living in a world of multiple challenges and endless possibilities but, also in a world with declining mental health among young people.
Insights from over 1,500,000 students and young professionals surveys by Employer Branding Agency Universum Global show that finding the right path is not an individual but a Europe-wide problem.
You are invited to become part of the solution
As universities want to support their students in making good choices and employers are interested to find the formula that both attracts and retains the right talent in their organizations, students are now invited to a challenge-based learning event and develop ideas for practical solutions that "Help students to find the right path after graduation."
GroUp 2.0
In this second edition of the Groningen Uppsala (GroUp) Challenge, Groningen students for the second time are invited to join students from Uppsala University in Sweden to solve a problem that is real and relevant.
Curious to see an impression about last year's GroUp challenge?
See: GroUp EHealth Challenge 2021 - YouTube and Outlook 2022: More student events coming up!
Program (please check carefully that you can make it, when applying!)
This year's program encompasses a preparatory digital and a physical part to ensure enough time to dive into the problem, develop solutions and network with your peers and the involved companies and organizations.
DIGITAL MEETINGS
WEDNESDAY 16 NOVEMBER: 17:00 – 19.00: DIGITAL INSPIRATION SESSION
WEDNESDAY 23 NOVEMBER: 17:00 – 19.00: DIGITAL INSPIRATION SESSION
PROGRAM IN STOCKHOLM
TUESDAY 29 NOVEMBER: 17:00 – 19.00 ICEBREAKER RECEPTION @THE EMBASSY
Morning / afternoon flight to Stockholm
Drinks and joint dinner at the Dutch Embassy in Stockholm
WEDNESDAY 30 NOVEMBER: 09:00 – 17:00: GROUP @THE EMBASSY
Teamwork
Introduction into the world of "Universum Global"
Workshop "Idea generation"
THURSDAY 1 DECEMBER: 09:00 – 17:00: GROUP @THE EMBASSY
Teamwork
Mentoring sessions
"Idea development" & "Pitch" Workshop
FRIDAY 2 DECEMBER: 09:00 – 13:00 GROUP@THE EMBASSY
Pitch contest
Award ceremony
Afternoon / evening: Flight back to The Netherlands & travel home
*Evenings are free to spend in Stockholm
Inspiration sessions
As preparation to the challenge, you will be invited to two 2 x 2 hours inspiration sessions on Wednesday 16th and Wednesday 23th of November. During the meetings, you will receive an introduction to the challenge and several inspiring presentations by organisations that specialiaze in supporting graduate students in finding the right path and employers in attracting the right talent.
Here, you will also get to know your group for the first time and together dig into the problem of the challenge in a virtual game environment.
GroUp @The Embassy in Stockholm
29th of November to 2nd of December, invited for four days to the Dutch Embassy in Stockholm, where you will meet your Swedish group mates for the first time in person and start developing your idea into a concrete solution that could be implemented in practice.
In Stockholm, you will be welcomed by the ambassador of The Netherlands to Sweden, attend a joint reception and dinner and get introduced to key concepts of resilience and career success.
Workshops, mentoring and pitches
Throughout the days, you will also be engaged in several workshops to support your team in developing viable plans and receive mentoring to ensure that your solution has the potential to be applied in practice.
On the last day, every team will pitch their solutions in front of a handpicked jury.
The team that develops the best solution will receive a price and have laid the corner stone for a solution that potentially will help 1000´s of students across The Netherlands, Sweden and Europe!
Who can take part?
All undergraduate students in their final year of study and masters students from a degree program from Groningen can apply for this challenge.
No deep prior knowledge is required. Bringing a fresh mind and a good motivation for the topic is all you need.
How many students will be selected?
For this challenge, 12 Groningen students from different disciplines and programs will be selected.
We expect participation to be popular for this challenge. As places are limited to 12 spots for each university, early applications are encouraged.
Why participate?
Help to solve a real-life problem
Network with like-minded peers and interesting companies
Develop design-thinking, challenge-based learning and multi-disciplinary team work skills that make you attractive for future employers
Get inspired by interesting presentations
Get a GroUp participation certificate that boosts your CV
Explore Stockholm – The Impact capital of the world
Location: Götgatan 16A, 118 46 Stockholm, Sweden, Embassy of the Kingdom of The Netherlands in Stockholm
Accomodation: You will be accomodated in Hotel Rygerfjord, Söder Mälarstrand, Kajplats 13, 118 25 Stockholm, Sweden
Cost: 100 Euros per student (Including accommodation, flight, transport in Stockholm and several meals)
How do I apply? Your application including a well written, short motivation can be sent to gdbc rug.nl
Registrations are welcome until Sunday 9 October, 23.59 hours. Confirmation follows ultimately on Wednesday 12 October.