GDBC presents book on Digital Transformation to the Board of the University of Groningen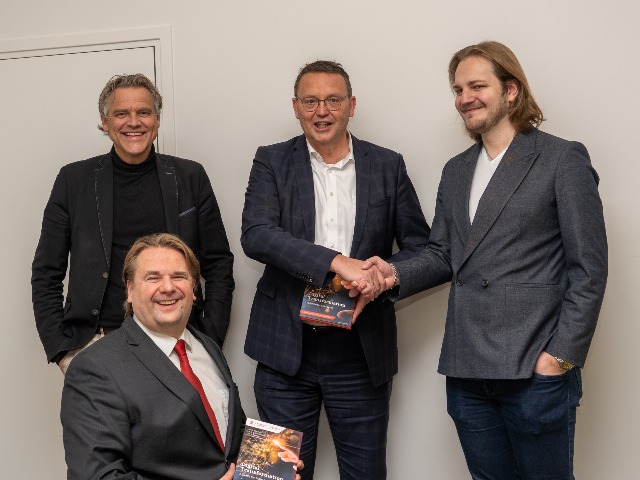 In this last week before the Christmas break, Bas Baalmans, Nicolai Fabian, and Thijs Broekhuizen presented GDBC's book 'Digital Transformation: A Guide for Managers' to Jouke de Vries, the President of the Board of the University of Groningen.
The book was initiated by GDBC and is made possible with help from lot of colleagues at the UG and other universities abroad, but also from business professionals at companies such as IBM and DVJ Insights. Jouke de Vries was happy to receive a copy. According to him, this kind of attention for Digital Transformation fits well within the UG's goal of driving transitions and creating societal impact by conducting (and sharing) interdisciplinary research.
The book touches on topics such as digital business models and platforms, digital governance and blockchain, AI, robotics, and Digital Twins. It is available online now as PDF. The book's set-up is user-friendly: the introduction includes clear overview of the topics discussed in each chapter and QR codes on the title page of each chapter link to a instructive two-minute video that summarizes the issues dicussed in the chapter in question. In this way, the users can quickly find the information they need.
Questions? Please contact Bas Baalmans, Nicolai Fabian or Thijs Broekhuizen.