FC Groningen Digital Business Challenge

Are you eager to have an impact on the strategic choices of a professional organization? Would you like to work with an international and multidisciplinary team on a digital business challenge with different topics to choose from, be supported by business advisors and pitch your ideas to a jury of experts at the end? Then join us in accepting this daring endeavour and sign up for our Digital Business Challenge!

This event is a co-creation between the FC Groningen, IBM, and Digital Business Center of the University of Groningen - bringing together professional sports organization, a multinational technology and consulting firm, and academia. This challenge offers you the unique opportunity to work with students from across Europe on a real-life and current business challenge, gain practical experience, broaden your network, win attractive prizes - and if you are interested, even have the chance to join an internship with the project team or potentially for a follow-up project!

This digital event will take place in a blended set-up including both virtual live events and flexible group sessions. You will be part of a multidisciplinary and multinational student team working on a real-life digital business challenge faced by FC Groningen, one of the most renowned professional football clubs in the Netherlands.

With their new strategic vision, they want to become an economic acceleration platform, digitally connecting, networking, and matching more than 500 businesses. Now, the club is looking for ways to make this matchmaking program an invaluable investment for sponsors. By creating both sponsor and fan profiles from gathered data, different parties can be matched effectively to increase delivered value, and build a community-like platform where sponsors can support each other. This includes the creation of those profiles, optimising the data gathering process, and making the program's impact measurable.

Throughout the event, you will be supported by experts, have the option to schedule an individual appointment with the business client and business advisors, and you will have the opportunity to join training or coaching sessions by professionals. Each team will receive guidance to make sure you can stay focused on your idea development and not lose time scheduling appointments or providing you with data from the business: if there is anything you need, let us know and we will get it for you!

Every day, we start with a joint kick-off in the morning, and then you will have a mixture out of live sessions and flexible team meetings and appointments that you can schedule yourself. Exact time slots will be shared beforehand.

When you join this business challenge, you will:
Get evidenced experience for employers with an official certification for your CV,
Develop personally by working in an interdisciplinary and international team,
Broaden your personal and professional network,
Get feedback from and be coached by professional experts,
Help solve a real-life problem,
Become more comfortable at holding presentations and pitches in a professional context
Increase your future employability,
Step out of your comfort zone, and
Have a chance on a placement with the project team, including coaching and workshops by IBM!
Winners have an opportunity to choose from a range of prizes such as a tablet, a signed jersey and a workshop by IBM or GDBC, and

Here you can find more practical information and the provisional time schedule.
This event will use a blended approach by mixing virtual live sessions with independent group work activities. You can make use of the drop-in-office hours to get additional support. Moreover, on the second day, you can meet with the client, business advisors, and coaches, so you can ask questions and get support in your process. In the evening there will be a pitch training for the spokesperson of your group. On the third day, each team will pitch their idea or prototype to a jury which will then evaluate all the ideas. The winners of each pillar and the overall winner will be announced at the end of the third day.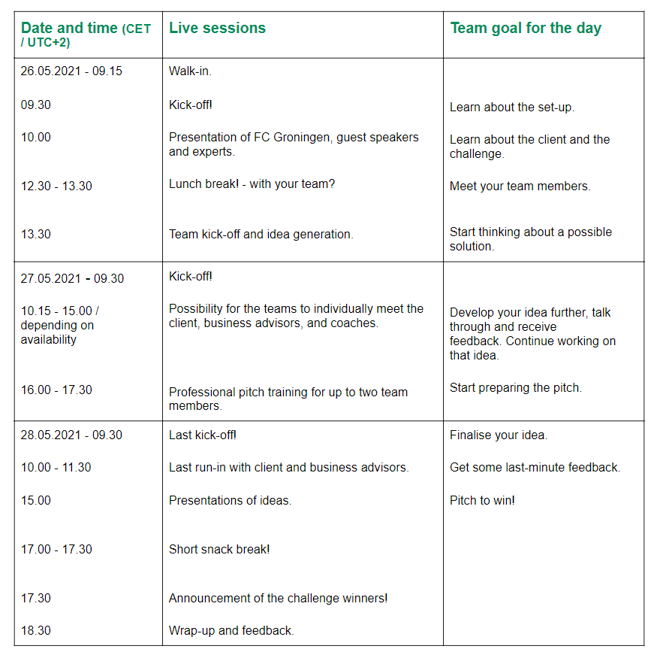 Interested students from the areas of Business and Economics, Marketing, Psychology, Computer Science/IT/ICT, and Media & Communications programs
Students who are interested in solving problems, sports, events, and digital business
Students who are fluent in English
For more information, please get in touch with the project team via gdcb@rug.nl.
Please sign in before 23-05-2021 11:59PM