AI en menselijk ongemak | Kennis- en netwerkevent over artificial intelligence | 29 oktober 2019, Groningen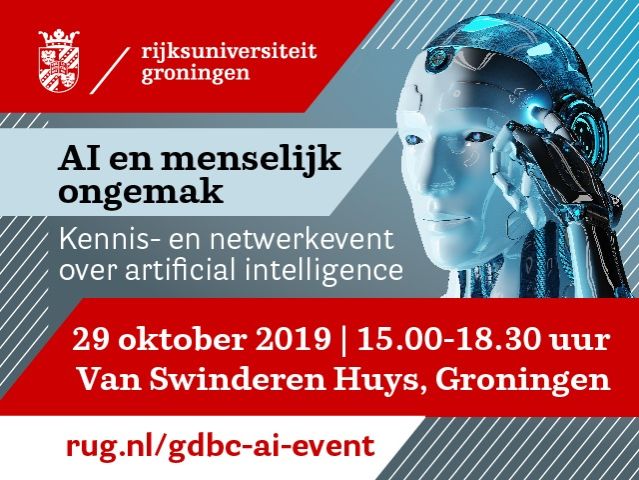 Welk gevoel roept kunstmatige intelligentie (AI) bij u op? Steeds vaker vragen we ons af of de voordelen van deze ontwikkeling opwegen tegen de duistere kant die het met zich meebrengt. Een breedgevoeld maatschappelijk sentiment is het ongemak over machines die 'de boel zouden overnemen'. Herkent u dit als professional bijvoorbeeld ook onder uw klanten, collega's of werknemers? Hoe gaat u daarmee om?
Het Groningen Digital Business Centre (GDBC) nodigt u van harte uit voor het kennis- en netwerkevent "De relatie tussen kunstmatige intelligentie en menselijk ongemak" op dinsdag 29 oktober 2019 (15.00-18.30 uur) in Groningen.
Hoofdspreker is trendwatcher Jarno Duursma, en bij onze interactieve paneldiscussie zijn wetenschappers en bedrijven vertegenwoordigd, zoals professor Jenny van Doorn en Frido van Driem, werkzaam bij NEWCRAFT. Tijdens de netwerkborrel achteraf is er gelegenheid tot napraten en zijn er AI demonstraties
Details
Wat: Kennis- & netwerkevent GDBC
Voor wie: digitale bedrijven in en buiten het netwerk van GDBC, wetenschappers, alumni economie en bedrijfskunde, studenten
Thema: "De relatie tussen kunstmatige intelligentie en menselijk ongemak"
Sprekers: Jarno Duursma, Jenny van Doorn, Frido van Driem
Datum & tijd : dinsdag 29 oktober 2019 van 15:00 tot 18:30 uur (inclusief afsluitende borrel)
Voertaal: Nederlands
Locatie: Van Swinderen Huys, Groningen centrum
Toegang: gratis voor de sponsors GDBC, FEB Alumni Donateurs, RUG-medewerkers en studenten. Overige genodigden: €15,00 pp.
Aanmelden
Lees meer over het programma en MELD U DIRECT AAN >>
Tags:
Jarno Duursma
,
kunstmatige intelligentie
,
artificiële intelligentie
,
AI
,
Jenny van Doorn
,
GDBC event
,
GDBC
,
2019
,
evenement
,
KI
,
Frido van Driem