The book 'Goede leiders zweven niet'
De fundamenten van effectief leiderschap in organisaties en de maatschappij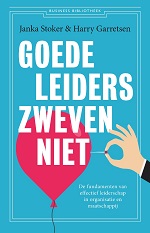 Tegeltjeswijsheden, stappenplannen en vooral wijsheid achteraf: over leiderschap wordt met veel stelligheid geschreven en gesproken. Maar wat zijn nu werkelijk de factoren die maken dat een leider invloed uitoefent op zijn of haar omgeving?
Janka Stoker en Harry Garretsen beantwoorden in dit boek de vraag hoe effectief leiderschap eruitziet. Met verwijzing naar de actualiteit, sport en politiek en aan de hand van bekende bedrijfscases onderbouwen ze hun claim dat goede leiders vooral niet zweven: ze gebruiken geen vage concepten én ze staan niet los van hun omgeving.
Goed leiderschap wordt nooit alleen bepaald door de persoon van de leider, maar ontstaat uit een match met de omstandigheden, zoals het type organisatie en het economisch of politiek tij. Dat levert tien concrete inzichten op, zoals:
• Goede leiders combineren feiten en gevoel
• Goed leiderschap vraagt om tegenmacht
• Goede leiders hebben verstand van proces en inhoud
Dit boek is onmisbaar voor managers en (politiek) leiders die in de spiegel durven kijken en echt verschil willen maken.
Lees meer over het boek 'Goede leiders zweven niet' in de volgende artikelen.

Interviews:
Boekrecensies:
"Een slimme bundeling van actualiteit en onderzoek maakt duidelijk dat de wereld behoefte heeft aan nuchtere leiders die hoofd en hart verbinden, en weten wat er wel en niet verandert" - Jeroen Smit (auteur van De Prooi & Het drama Ahold)
| | |
| --- | --- |
| Last modified: | 22 June 2020 09.32 a.m. |