'Goede leiders in onzekere tijden' ('Good leaders in uncertain times')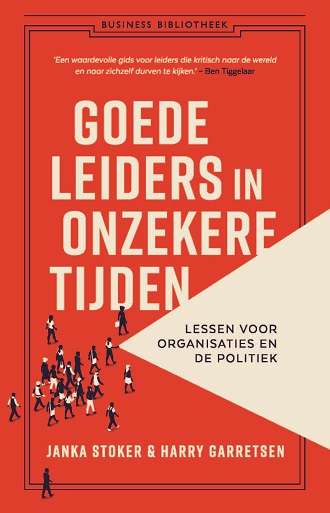 Lessons for organizations and politics
In their new Dutch book, Janka Stoker and Harry Garretsen show how leaders and their followers, both in organizations and in politics, deal with crises and our uncertain times. They explore the implications for effective leadership, using examples of inspirational leaders like Jacinda Ardern, Paul Polman and Volodymyr Zelensky. The book provides advice and guidance for leaders who dare to reflect, not only on the challenges they face, but first and foremost on their own leadership roles.
Reactions
'Good leaders can also fall flat on their faces, but learning from these experiences is one of their strengths. This book is a must for anyone who strives for better leadership.'
Dimitri de Vreeze, co-CEO DSM
'Throw away all the books on management hypes with the newest nonsense theories about leadership. Need to know what good leadership is? This is the book you need. No-nonsense and insightful, and I will never again forget to wear sunscreen.'
Sheila Sitalsing, journalist and writer
'Uncertain times require a decisive government and good leadership. Stoker and Garretsen describe the most important characteristics of good governance, but also show that picking good leaders maybe is the hardest part.'
Bernard ter Haar, former senior civil servant and consultant at ABD TopConsult
Reviews
"Goede leiders in onzekere tijden is a nice reflection on leadership in the past period. In addition, it feels like an indictment against the leadership of our Prime Minister Mark Rutte, the authors wonder whether he can adapt his leadership style to the needs of this time. The book is spot on, exposes the problems well and Stoker and Garretsen also come up with concrete advice. I heartily recommend this book to the leaders of our time to guide us out of the crises!"
Door Jan Hoekstra voor het managementboek.nl
Learn more about the book 'Goede leiders in onzekere tijden':
Upcoming events:
Media:
TV:
Radio:
Podcasts:
Written Press:
Responses from the book's "good leaders":
| | |
| --- | --- |
| Last modified: | 17 February 2023 11.40 a.m. |