Managementprogramma
voor de industrie en bouwnijverheid in Noord-Nederland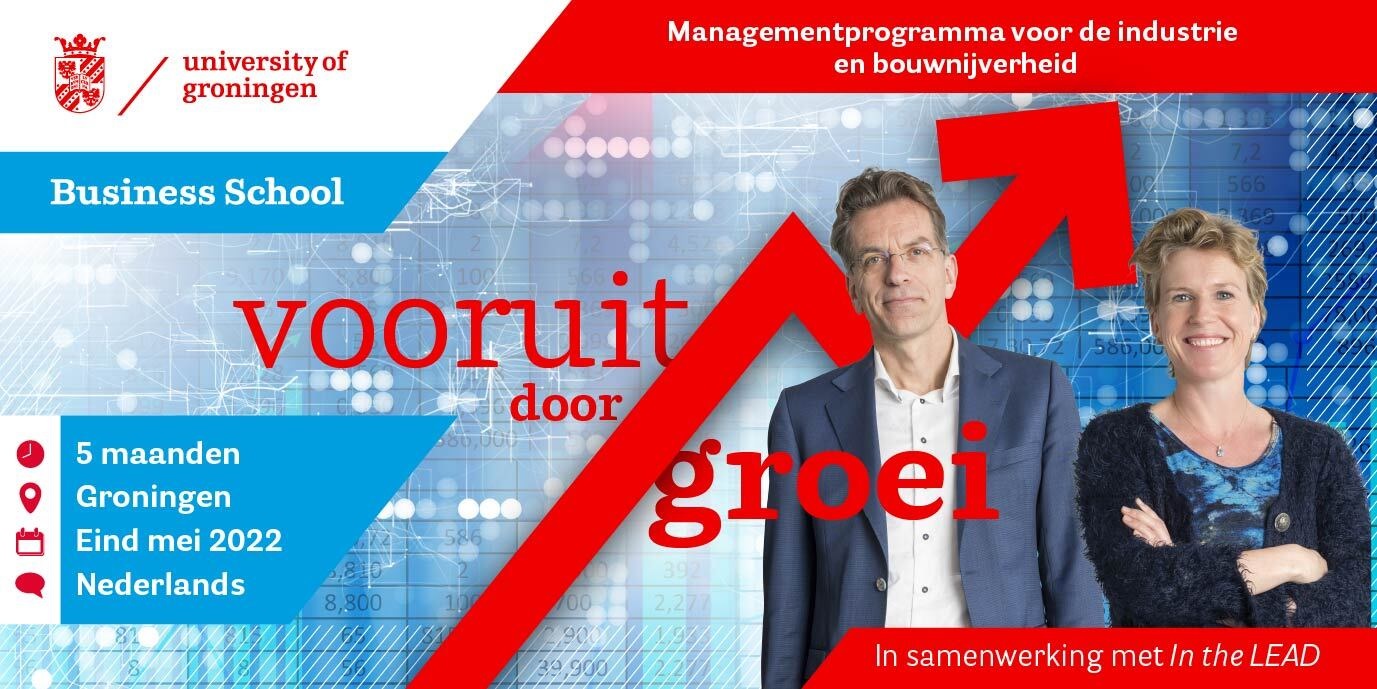 Vooruit door groei: investeer in uzelf en uw bedrijf met dit wetenschappelijk onderbouwde én praktijkgerichte managementprogramma en haal meer uit uw onderneming!
Bent u een ambitieuze manager met beslissingsbevoegdheid binnen een industrie- of bouwbedrijf in Noord-Nederland? En zoekt u naar manieren om door te groeien? Wilt u nieuwe markten aanboren? Of uw bedrijf beter positioneren binnen uw huidige markt? Wilt u weten hoe u om gaat met huidige trends en uitdagingen, zoals digitalisering, verduurzaming en globalisering?
Kort gezegd: wilt u uw bedrijf vooruithelpen? Dan is dit Nederlandstalige executive programma voor u!
Tijdens het programma krijgt u antwoord op onder andere de volgende vragen:
Wat zijn de belangrijkste strategische doelen voor mijn bedrijf om te groeien in een wereld vol veranderingen?
Waar liggen de groeikansen – nationaal én internationaal – en hoe benut ik deze het best voor mijn bedrijf?
Hoe vind en behoud ik de juiste medewerkers die mijn bedrijf vooruithelpen? Hoe krijg ik inzicht in mijn bedrijfsprestaties en hoe kan ik deze verbeteren?
Hoe krijg ik de mensen mee in verandering?
Hoe zorg ik voor borging van de verandering?
Door u relevante bedrijfskundige inzichten en praktische managementtools te geven, verbetert u uw bedrijf op strategie, talentmanagement en het meten van prestaties. Ook geven wij u inzicht in hoe u als manager verandering intern kunt leiden. In het programma is expliciet ruimte voor het inhoudelijk sparren met andere managers. U leert dus van mededeelnemers, en zij van u! Het op de praktijk afgestemde programma is gevormd in samenwerking met ervaren managers uit de regio.
Kenmerken managementprogramma:
Praktijkgericht executive programma met ruimte voor maatwerk
Kort, intensief programma van 5 maanden met 5 collectieve dagen
Individuele scan van uw managementkwaliteit (inclusief benchmark)
Ondersteuning van een toptalent van de RUG
Uniek noordelijk netwerk van ambitieuze managers
Meest recente bedrijfskundige inzichten en praktische managementtools
Inspirerende sprekers uit de wetenschap en de praktijk
Inzicht in hoe u als manager verandering intern kunt leiden
Voertaal is Nederlands
Meer informatie
Meer informatie over dit uitdagende managementprogramma vindt u op de programma-pagina's >>
| | |
| --- | --- |
| Laatst gewijzigd: | 15 oktober 2021 12:20 |