ATN Blog - Researching the arts in health // Part 1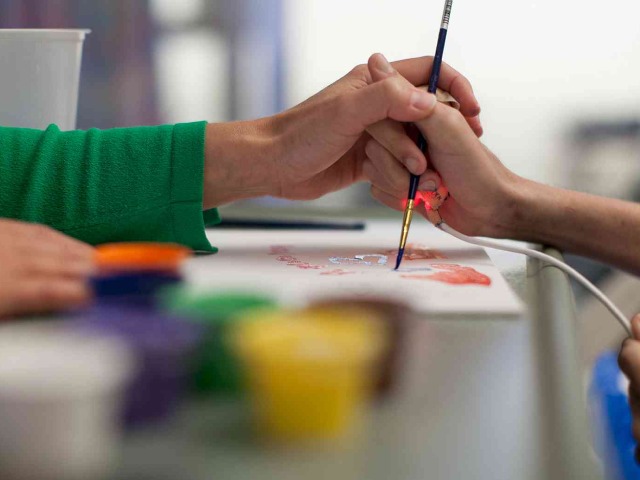 This is the first of a two-part description of arts in health, focusing on the rationale and theoretical background of the field. In Part Two, Dr. Lewis will describe the practice of arts in health in both clinical and community settings.
Research shows that active participation in the arts can shorten recovery time for patients, prevent burnout in healthcare staff, and promote healthier lifestyles in the community. Arts in health (AiH) is the practice of using professional creative arts to support the wellbeing of healthcare patients and staff, and to support the collective wellbeing of communities. AiH is represented by programs that "...use arts-based approaches to improve individual and community health, health promotion and healthcare, or that seek to enhance the healthcare environment through provision of artworks or performances".[1] A rich body of literature is emerging on the effects of AiH, offering new opportunities for investigations, in the life sciences, social sciences, and humanities.
Rationale for the arts in health
When checking into a hospital for treatment, new patients must literally surrender their clothes, personal belongings, home, and contact with loved ones. Wheeled into rooms with no locks on the door, new patients find that staff may enter at any hour to take their temperature, blood, or urine. Often a patient is awaiting a frightening medical procedure or recovering from one, and those hours are spent alone, staring at television or the ceiling. Is it any surprise that hospital patients are at risk for disorientation, delirium, high stress, anxiety, and depression?
In the 1960's, specially trained artists were introduced into United Kingdom hospitals with a unique objective: Their goal was not to cure disease––because AiH is not intended as therapy––but rather to improve the patient's overall experience of clinical healthcare, in essence to humanize the clinical setting.
We can imagine the first AiH experiments: Pictures hung on the walls of patient rooms, or having a musician play an instrument for patients, simply as a kind of distraction. Success with those efforts led to experiments at bringing the patient into more active participation in making music, drawing and painting, dance, and creative writing. Nurses and doctors noticed that the arts helped hospital patients feel less alienated, take greater interest in their treatment and recovery, and in some cases patients seemed to need less pain medication. At the same time, it was also noted that AiH activities had a positive effect on healthcare staff, improving the work environment and overall mood of the workplace. Meanwhile in the community, public health specialists were introducing the arts into public health interventions in support of community engagement, building trust and cooperation among residents, and promoting health literacy.
The modern practice of AiH was born in the UK, then spread to the United States in the 1990's, and today is an emerging field in the European Union and developing nations. In the 2000's, the Netherlands became home to some of the most exciting new research in the arts in health field.
Theoretical background
Arts in clinical health take place in hospitals and other settings where patients receive treatments, focused on the quality of the patient's experience while arts in public health take place in the community, focused on collective wellbeing and prevention. So, AiH can be divided into clinical and public health practices. The theoretical frameworks underpinning clinical and public health arts practices are distinct, yet also quite interrelated.
Arts in clinical health
The theory supporting arts in clinical health is found in the allied health theories of value-based healthcare,[2] patient-centered care,[3] and positive health.[4] A commonality among those frameworks is the notion that a patient's illness is intertwined with her emotional, social, financial, and institutional wellbeing, and the diagnosis should therefore be informed by a more complex perspective on the patient's life and health. Then, treatment shifts from the traditional disease-focused 'negative' health perspective––in which patients are passive recipients––to a positive vision in which patients are active, creative participants in their own prevention, treatment, and recovery. In that context, a patient's choice to be creative can be seen as a first step towards a positive, empowered view of health and disease prevention.
Arts in public health
The theoretical roots of arts in public health practice can be found in the asset-based community development approach in Kreztman and McKnight's foundational 1993 study, Building Communities from the Inside Out.[5] Kreztman and McKnight's framework can be seen as a sort of public health parallel to person-centered clinical healthcare, empowering community residents for collective agency, building on shared strengths rather than common weaknesses, and valuing local community knowledge, experience, and leadership. In that context, community arts activities can be seen as supporting disease prevention, as community engagement, health literacy, and new ways of helping community members to stay healthy and out of hospitals.
About the author
Ferdinand Lewis, Ph.D., is on the faculty of University College Groningen, where he created and co-supervises an annual arts in health project with students. He is helping the Aletta Jacobs School of Public Health to establish an organization to professionalize the field of arts in health in Groningen and the North of the Netherlands.
Researching the arts in health // Part 2
This blog was made possible by the Aletta Talents Network. If you would like to contribute a blog for the ATN, please contact Tom at t.a.lowe rug.nl
Click here to join the Aletta Talents Network!
[1] Macnaughton, J., White, M., & Stacy, R. (2005). Researching the benefits of arts in health. Health Education.
[2] The theory of value-based healthcare is about institutional change in healthcare systems, but the role of the individual patient is central to it. Value-based healthcare was proposed by Porter M. E., & Teisberg, E. (2006). Redefining healthcare: Harvard business school press. Porth, AJ, Badke, C, & Mieth, I.(1982). A fundamental data base design for the clinical laboratory. Alongside academic scholarship, private sector health organizations have published a number of handy guides to the application of value-based healthcare, for example the "Quick Guide" by Canada's association of medical technology companies (MEDEC), https://cdn.ymaws.com/medec.site-ym.com/resource/resmgr/Value_Based_Healthcare__-_Qu.pdf.
[3] The notion of patient-centered care operates at the level of of the patient-physician interaction, though of course it has wider institutional implications. For example, see https://catalyst.nejm.org/doi/full/10.1056/CAT.17.0559.
[4] In 2008, American psychologist M.E. Seligman proposed a new field called "positive health", in Seligman, M. E. (2008). Positive health. Applied psychology, 57, 3-18. Positive health was comprehensively taken up in the Netherlands in 2009, when the Netherlands Health Council and ZonMw met with health professionals and scholars to answer the question, "Is health a state or an ability?" The ZonMw's 2010 report makes recommendations regarding the implementation of positive health principles in healthcare. https://www.zonmw.nl/fileadmin/zonmw/documenten/Positieve_gezondheid/Report_Dutch_Health_Council_and_ZonMw_2010.pdf.
[5] McKnight, J., & Kretzmann, J. (1993). Building communities from the inside out. A path toward finding and mobilizing a community's assets. US scholars McKnight and Kretzmann are from the 'community development' field, which in the US is distinct from the field of public health. The notions of 'asset mapping' and asset-based development were quickly seen to have practical application in both fields.