Research
Together for more healthy years
Healthy ageing lives in the northern Netherlands. Research is being done, people are pioneering, discussing and experimenting, all with the aim of answering that one question: how can we age healthily together? Our curiosity about this topic pays off. For example, in the past decades we found out that countless factors play a role in healthy ageing. As a result, we have discovered a lot together, but the research and initiatives have at the same time become fragmented: we no longer know who exactly knows what. Aletta connects. We ensure that different specialisms are linked together, that knowledge is being shared and that everyone who is interested in healthy ageing is able to find the right way in the forest of knowledge and expertise.
This makes Aletta the next step in healthy aging: a school where forces are combined and knowledge is shared. That next step is achieved on the basis of five themes. There are three methods running right through these themes, each of which plays its own part within those themes.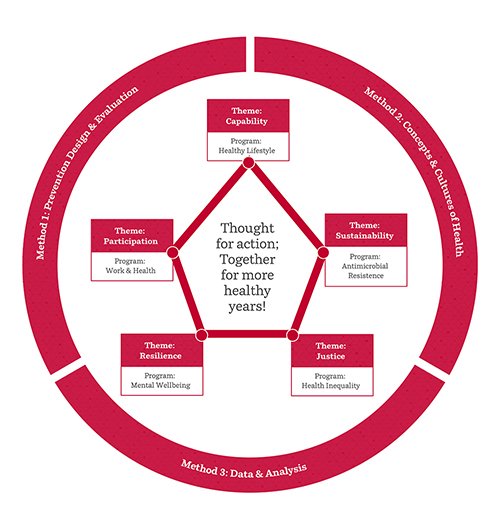 Themes
Where our values are 'the heart' of the Aletta Jacobs School of Public Health, our themes are 'the head'. They correspond with our values. Everyone who commits oneself to the Aletta Jacobs School of Public Health, does this from his or her own expertise. In order to safeguard the focus on the central goal and to ensure that the combination of unique and individual talents continue to contribute to the impact we want to create, we have defined five themes:

The themes stand for our different fields of expertise. With them in mind, we constantly seek and maintain focus on realising our dream: achieving more healthy years. The focus on these themes guarantees that the combination of individual talents (every partner within his or her own expertise) adds to the increasing positive impact we aim to generate.
Methods
How do we combine different types of data, so that we can draw sensible conclusions? By – apart from on the themes – also concentrating on the issues that play at the meta-level, we actually prevent ourselves from talking past each other. The representatives of the methods help us to structure the many outcomes of scientific research, and ensure that we can interconnect them. The following three methods help us to interpret the research results:
| | |
| --- | --- |
| Last modified: | 04 March 2019 10.59 a.m. |