ATN Blog - "It is alright if sometimes people slow you down": the importance of achieving a balance between social and physical activities in everyday life of older adults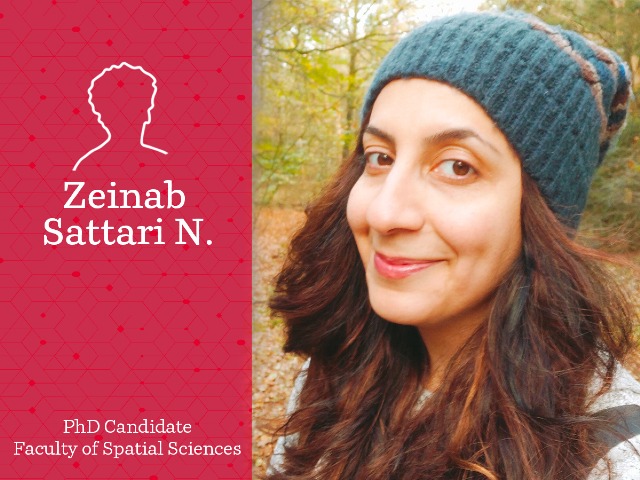 Zeinab Sattari N. is a PhD candidate in Population Research Centre, Faculty of Spatial Sciences (RUG), conducting research on mobility patterns in later life with relation to wellbeing. She has an academic and career background in urban planning and design as well as food policy. Her PhD is supervised by prof. Louise Meijering and dr. Gerd Weitkamp.
Ageing is a component of the life cycle and the quality of ageing depends on what individuals experience in their day-to-day lives. There has been an increasing awareness in research and policy around the importance of "later life wellbeing" in the recent decades. Older adults' wellbeing depends on various factors, including their lifestyles (e.g. mobility, activities, diet and smoking), living environments (e.g. access to nature, social opportunities and other facilities) and their biological and genetic components.
According to Taylor et al. (2019) two major factors which contribute to older adults' wellbeing are physical activity and social interaction in everyday life. Physical movement enables the person to access desirable places and accomplish everyday tasks, such as cooking and self-care. These contribute to the sense of agency and independency which are essential in later life wellbeing. Everyday interactions with family, friends and community help increasing the sense of belonging and self-value and receiving social support. Ability to move usually decreases by ageing due to the increasing physical and cognitive impairments. Social connections might also change after retirement, moving to a nursing home or losing family or friends in later life. However, researchers and policy-makers try to find ways to enable and encourage older adults to maintain high levels of physical and social activities.
In my PhD research, which is a part of the Meaningful Mobility project, I aim to discover relationships between physical and social activities in later life in various contexts. In one of our papers, we study everyday indoor activities of 20 British older adults in seven consecutive days. Older adults, including our participants, spend a significant amount of time indoors, but these places are understudied in health geography. Our preliminary findings indicate that there might be a trade-off relationship between the level of physical movement and social interaction in everyday activities. For instance, most of the times, when the level of social interaction was high during an activity, the level of physical movement was low, and vice versa. This provides a new insight for health policy by suggesting a balance between the level of social and physical activities in everyday life of older adults. The balance requires moments of sedentariness and solitude. These moments in some perspectives might be perceived as negative contributors to older adults' wellbeing, but in our study we value them as necessary parts of everyday life.
Another preliminary finding of our study highlights the importance of indoor places away from home, such as shops, community centres and family and friends' houses. A majority of older adults' social and physical activities occurred within those indoor places instead of their homes. Therefore, research and policy requires further insight into increasing the accessibility to these places and creating new places which can provide opportunity for moving and socialising.
Our results contribute to the idea of ageing in place which is an alternative for living in nursing homes in later life. Older adults who age in their communities spend considerable time at home and within the vicinity of their neighbourhoods. Therefore, their wellbeing depends on the possibility of maintaining social connection and physical movement in these places. Further studies on this topic can focus on the details of older adults' social environments, the type and features of indoor places they visit, the unique characteristics of participants and the connection between indoors and outdoors.



This blog was made possible by the Aletta Talents Network. If you would like to contribute a blog for the ATN, please contact Tom at t.a.lowe rug.nl.
Click here to join the Aletta Talents Network!