Material evidence in the incunabula of the University of Groningen Library
Anna de Bruyn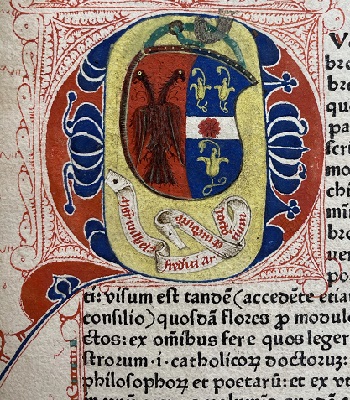 Among the oldest books in the University of Groningen Library are the incunabula, the 'first generation' of printed books (printed before 1501). These imposing Bibles, carefully printed classical texts and humble devotional works have a long history of use. For centuries, they have been owned, read, cherished or neglected by different individuals. They changed hands, and were restored and adapted to various needs. Nowadays, we may still catch a glimpse of this fleeting history of use through the traces that individuals left in their books, such as ownership inscriptions, decorations and notes written in the margins. This 'material evidence' reveals what happened to these books after they were printed. Who owned them? How where they used? And how did the extant copies end up in the library where we can read and study them today?
The traces of ownership were meticulously inventoried in the early twentieth century by Antoon Gerard Roos, librarian at the University of Groningen Library who later became Rector Magnificus and who founded the University Museum. The University Library has now begun to systematically describe this information for its collection of 212 incunabula, adding a first selection to the database Material Evidence in Incunabula created by the Consortium of European Research Libraries. This database is designed to gather and cross-link instances of material evidence in libraries worldwide to map the provenance of the first printed books. Studying this evidence in the Groningen incunabula has increased our understanding not only of the books themselves, but also of the historical 'bookscape' of Groningen and its surroundings. Important places like the Martinikerk (Saint Martin's Church) have a role to play in this history, as do influential individuals such as Wilhelmus Frederici and now-anonymous bookbinders and sellers.
This exhibition takes us on a tour that follows the 'paper trail' of book ownership and reading in the incunabula of the University Library.
| | |
| --- | --- |
| Last modified: | 18 June 2021 1.12 p.m. |