Marie Sklodowska-Curie Postdoctoral Fellowships in Public Health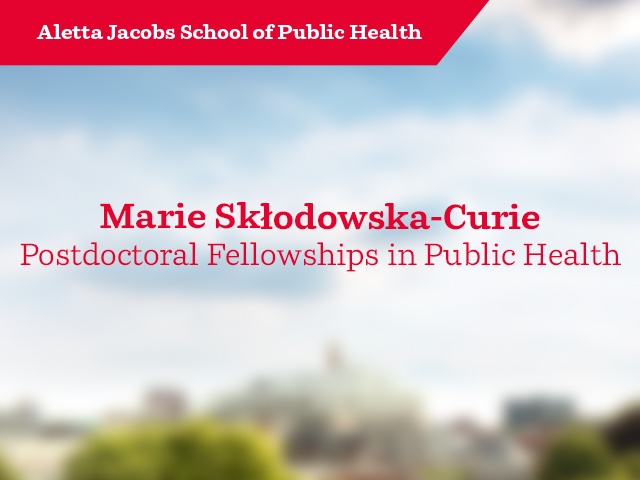 Are you looking for a postdoctoral position in the field of Public Health under the Marie Sklodowska-Curie scheme?
The Aletta Jacobs School of Public Health (AJSPH) in Groningen, The Netherlands is your option. The AJSPH will serve as a host and welcomes your "expression of interest".
What is AJSPH?
The AJSPH is a joint partnership of the University of Groningen, the University Medical Center Groningen (UMCG) and the Hanze University of Applied Sciences and it is the proud flag-bearer of healthy ageing in the Northern Netherlands. The AJSPH is a network of researchers and partners with one single goal: more healthy years.
We are not an organisation, but a collective. A group of people moving organically in search of other people whose hearts – like ours – beat faster when they consciously do all the things that they can achieve together. Please see more details here .
What offers you AJSPH?
At the AJSPH we do public health research from a interdisciplinary approach.

We connect you with researchers, healthcare practitioners, health authorities and healthcare companies.

We offer an international and open working environment.

We are extraordinarily flexible. In our journey for health there is no fixed route from here to there. Like curious explorers we convince ourselves and others during the process.
What is the MSC PF scheme?
The Marie Skłodowska-Curie Postdoctoral Fellowships (former Individual Fellowships under Horizon 2020) aims to enhance the creative and innovative potential of experienced researchers wishing to diversify their individual competences in terms of skills acquisition through advanced training and international / inter-sectoral mobility.
The MSC Postdoctoral Fellowships provide funding to cover salary costs and the costs of conducting research. It is open to researchers of any age, nationality or discipline. It is based on an application made jointly by a researcher (fellow) and a supervisor.
Postdoctoral Fellowships take the form of European Fellowships or Global Fellowships:
European Fellowships (one or two years) are conducted in EU Member States or Horizon 2020 Associated Countries and are open to researchers either coming to Europe from any country in the world or moving within Europe.

The scheme also supports researchers wishing to reintegrate in Europe, researchers who are displaced by conflict as well as researchers with high potential aiming for a career restart in research. The scheme also encourages researchers to work on research and innovation projects in the non-academic sector.
Global Fellowships are based on secondment to a third country (for one to two years), followed by a mandatory one-year return period to a European host.
Requirements:
The research fellows must be in possession of a PhD by the deadline of the call. There is also a scientific age: research fellows can't have more than 8 years of research experience after the completion of their PhD (periods not active in research and periods that Europeans worked outside Europe do not count towards the 8 years).
In both cases, the researcher must comply with the mobility rules which vary depending on the type of Postdoctoral Fellowship. According to the information we have so far (the call has not been published):
European Fellowships: at the time of deadline, the researcher must not have resided or carried out the main activity (work, studies, etc.) in the Netherlands for more than 12 months during the previous 3 years.

Global Fellowships: The researcher must not have resided or carried out the main activity (work, studies, etc.) in the country where the outgoing phase takes place for more than 12 months in the 3 years immediately before the call deadline.
Call for "expression of interest"
If you are interested in developing a postdoctoral research project in the field of Public Health with one supervisor affiliated to the AJSPH, please contact us as soon as possible by sending an email to Adriana or Gema .
You can benefit of the training on "how to write a good proposal" that we are organizing at the University of Groningen. This training is aimed at a reduced group of participants (both potential fellows and supervisors). It is composed of two online sessions that offer a further opportunity to reflect and clarify what it takes to write a successful MSC PF proposal through live discussions, taking place on the 25th of May and the continuation on the 15th of June.