Meet Antonio Nicolò: Keynote Speaker at the Aletta Research Meet-Up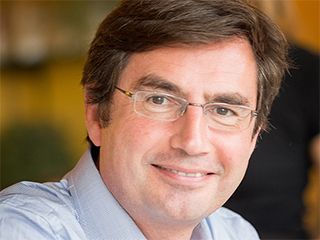 Six months after the successful first Research Meet-up it is time for a next edition. On 7 June, researchers will meet again in Hanze Plaza to network with each other, learn from each other's work and meet potential research partners. The day is dedicated to inspiring workshops given by researchers from the UMCG and the University of Groningen, but also by people from the field. In addition, two plenary sessions will take place with researchers Gerjan Navis and Antonio Nicolò. In this blog you can already read something more about the subject of Antonio Nicolò's keynote: paired donor exchange.
Different positions
Antonio Nicolò is Professor of Economics at the Università di Padua, Italy, as well as at the University of Manchester. He obtained his MSc and PhD at the Universitat Autonoma de Barcelona. In his current career, Nicolò has already held various positions. He was, for example, a professor at the Università degli Studi di Padova, and he worked at the University of Chicago, the European University Institute and the Becker-Friedman Institute. He is also a member of the Council of the Social Choice and Welfare Society and writes as an editor for Theory and Decision and The Manchester School. He is also a member of the Council of the Social Choice and Welfare Society and an editor for Theory and Decision and The Manchester School. Antonio Nicolo's main research interests are in the areas of collective decision making, mechanism and market design.
Cross-over kidney donation
One of Nicolò's areas of expertise is paired donor exchange, also called cross-over kidney donation. The researcher explains: "The best treatment for terminal kidney disease is a kidney transplant. Kidneys for transplantation can be obtained through deceased or living donors. However, direct kidney donation is not always possible because the operation is sometimes too risky or only possible after a certain preparatory trajectory." In other words, a donor cannot always donate a kidney directly. There are several reasons for this: "The blood groups of the donor and the patient do not match, or the patient's body makes antibodies against the tissue of the donor. In some cases, even both are at issue", says Nicolò. Cross-over kidney donation offers patients who are unable to receive a direct kidney transplant because of their blood group or the presence of antibodies, an extra chance of transplantation. The professor explains: "In cross-over kidney donation, a patient who cannot receive a kidney from their own donor receives a kidney from the donor of another patient, in exchange for the donor's own kidney. This exchange of donors then results in two successful kidney transplants."
Paired Kidney Exchange (PKE)
With his research on paired donor exchange, Nicolò is building on the concept of cross-over kidney donation. The researcher recently introduced a Paired Kidney Exchange (PKE) model, which includes transplant quality and patient preferences. In addition, he has developed an algorithm that ensures that patients with younger donors are given priority. "The PKE model offers a patient several suitable donors," says Nicolò. During his keynote on 7 June, the professor will explain the model further.
Healthy ageing
Nicolò hopes to be able to contribute to Healthy Aging with his PKE model. He explains: "In order to come by effective prevention programmes, it is essential that knowledge is shared and research is carried out from as many disciplines as possible." In the case of cross-over kidney donation, performing the transplant is not sufficient to ensure that patients grow old healthily and happily, according to the professor: "Aspects such as transplant quality and patient preferences also play a role in this." When asked what the secret of the researcher for a long, happy and healthy life is, Nicolò answers: "Make your hobby your profession! I love my profession and I advise everyone to choose a job that makes them happy".
AJSPH
The researcher is enthusiastic about the Aletta Jacobs School of Public Health: "In my opinion, the AJSPH is an extraordinary initiative that not only contributes to research on healthy aging and education in the north of the Netherlands, but can also be deployed at an international level and provide valuable tools for the whole of Europe." Nicolò concludes: "For me, the AJSPH is an example of knowledge valorisation."
Keynote Antonio Nicolò
In his keynote, which is called "Priceless Economics: How Economists can help Patients (and their Doctors) Find the Right Kidney Donors", Antonio Nicolò discusses how economics can help in designing more efficient and equitable procedures to allocate organs to patients waiting for a transplant. Antonio Nicolò presents the results of an interdisciplinary project between the Kidney and Pancreas Transplant Unit of the School of Medicine and a team of economists and computer scientists of the University of Padova to design a new algorithm to utilize kidneys from deceased donors to initiate chains of living donor kidney paired exchanges. Finally, he will discuss the results of a discrete choice experiments to elicit time preferences and risk attitudes of the patients enrolled on waiting lists for kidney transplantation.
Interested in this keynote? Join our Research Meet-up on 7 June.