Aletta voorbeeld van succesvol samenspel wetenschap en praktijk in de regio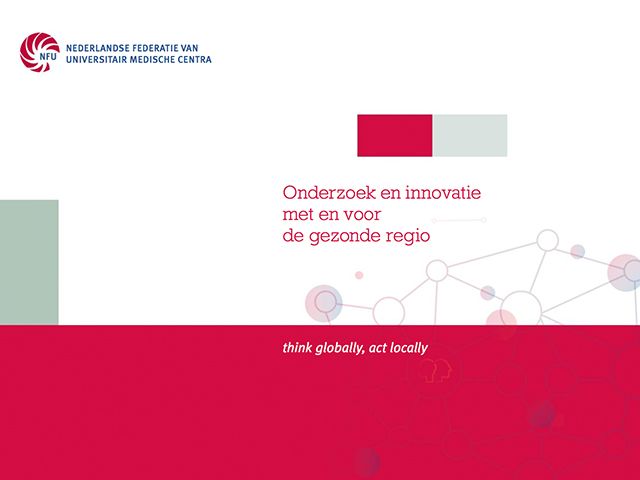 Vandaag overhandigt de Nederlandse Federatie van Universitair Medische Centra (NFU) het plan 'Onderzoek & Innovatie met en voor de gezonde regio' aan minister Bruins (Medische zorg). Dit plan voorziet in een actieve, verbindende rol van de universitair medisch centra (umc's) in het oplossen van gezondheidsvraagstukken in de regio. Het plan beschrijft hoe de umc's hun kennis en expertise kunnen inzetten, samen met collega-ziekenhuizen, burgers, patiënten, zorgverleners, onderwijsinstituten, bedrijfsleven en zorgverzekeraars. Het schetst hoe partijen samen de meest urgente en regiogebonden vraagstukken op het gebied van preventie, gezond leven en zorg kunnen inventariseren en aanpakken. Vragen en behoeften van burgers en patiënten zijn daarbij leidend. Gebruikmakend van elkaars expertise worden die vraagstukken vervolgens vertaald in regionale kennis- en innovatieagenda's, met afspraken over aanpak en financiering. Het plan noemt een aantal succesvolle samenwerkingsverbanden waar al wordt gewerkt aan die duurzame verbinding tussen wetenschap en praktijk. De Aletta Jacobs School of Public Health is daar één van.
Jochen Mierau (wetenschappelijk directeur van de Aletta Jacobs School of Public Health) is blij met de regionale insteek van het onderzoek en innovatieplan. "Er is geen one-size-fits-all oplossing die alle umc's kunnen nastreven. Je moet veel dichter bij huis samen met je regio kijken welke vorm aansluit bij de specifieke regionale wensen en uitdagingen. Om die verbinding tussen kennis en praktijk te maken, werken het UMCG en kennisinstellingen (Rijksuniversiteit Groningen, Hanzehogeschool Groningen) met maatschappelijke partners in Noord Nederland samen in de Aletta Jacobs School of Public Health. Zo kunnen we meer bereiken. En daadwerkelijk samen bijdragen aan meer gezonde jaren".
Lees hier het nieuwsbericht van het UMCG.
Lees hier het volledige rapport op de website van de NFU.