State College 1815-1876
The founding of the 'Kingdom of the Netherlands' in 1815 saw the Imperial Universities of Groningen, Leiden and Utrecht being changed into Rijkshogescholen (State Colleges). The faculty of Philosophy was split up into faculties for Arts, Philosophy, Mathematics and Physics. The university could not be sure of its future at this time, despite increasing numbers of enrolled students: the number still remained under 200.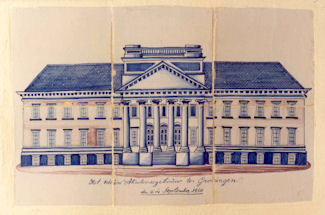 The cloister, which functioned as the Academic Building, was torn down in 1846. The construction of a new, neo-classic, Academic Building was completed on the same site four years later. The upper floor of this building contained a Museum of Natural History with exhibits including stuffed birds, skeletons and various body parts in spirits.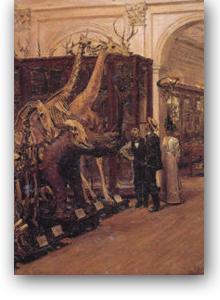 The nucleus of the university remained clustered around buildings on the Broerstraat and there was very little expansion out with this centre for most of the nineteenth century. There was, however, also a Botanical Garden in the Grote Rozenstraat, a small teaching hospital with eight beds in the 'Groene Weeshuis' and a Chemical Laboratory based in a summer house in the Prinsenhof.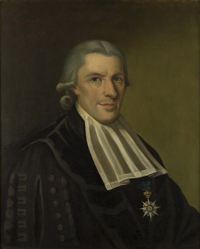 An academic hospital
In 1793 Evert Jan Thomassen à Theussink was appointed professor of Medicine. As a student he had travelled throughout Europe and had noticed how health care and education could go hand in hand. This gave him the idea to institute a small academic hospital in Groningen. Such academic hospitals were already established in Leiden en Utrecht.
In 1797 the Nosocomium Academicum opened in the former military hospital in the so-called 'Groene Weeshuis'. A few years later, in 1803, the hospital moved to the Munnekeholm and was situated there for the next one hundred year until the hospital moved to its current location at the Oostersingel.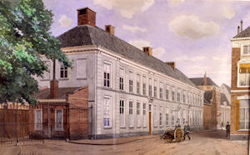 | | |
| --- | --- |
| Last modified: | 13 August 2021 3.17 p.m. |