Provincial College 1614-1815
The council of the province Groningen and the Ommelanden, as the current province of Groningen was then known, founded the university on 23 August 1614.
The brand new academy was housed in the old and unused Menolda and Sywen convent, on the North side of the Broerstraat. A year later saw the opening of the University Library and Anatomy Theatre in the Minderbroeder Cloister across the street from the Academiegebouw. The courtyard of the cloister was later used as an academic cemetery.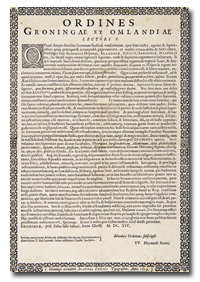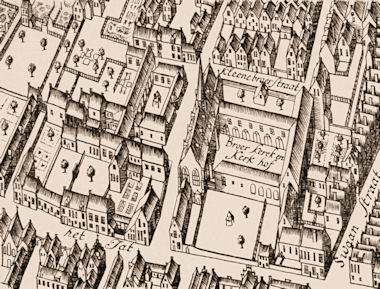 In the 'Founding Act of the University of Groningen' issued by the council of the province Groningen and the Ommelanden the administrators emphasised the importance of good education and government. Ubbo Emmius (1547-1626), the first Rector Magnificus of the university, propbably wrote the text. He called the act the 'Eternal Edict'. In the act he speaks of Groningen as a place 'that can be noted as naturally intended as home of the Muzes. Its charming situation is renowned, the air is clean and wholesome, the food supply is abundant and there is a wealth of guesthouses [...].'
Also view the full version of the Dutch translation of the 'Founding Act of the University of Groningen'.
A placard of this announcement on the foundation of the university was printed. Sevenhundred copies were distributed throughout the big cities of the Dutch Republic and beyond to attract students.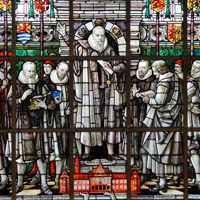 The university began with six professors for the faculties of Law, Medicine, Philosophy and Theology. There were 82 students enrolled in the first year of the university, including 30 foreigners. Only male students who had completed a primary education at a Latin school were admitted. Latin was the official school language until 1876.
The university tried to attract foreign students by issuing grants and by employing famous professors. Placards with lecture schedules of professors were printed and distributed as a means of promotion.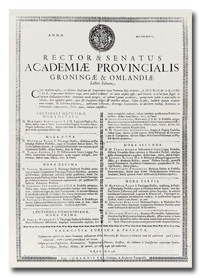 The growth of the university began to stagnate around 1800. The political instabilities in the Netherlands around this time had consequences in university life. Foreign students stayed away due to the fact that the political and religious situation in their own country was much better and more stable than in the Netherlands. The number of enrolled students fell to 150, very little scientific research took place and many professor positions remained unoccupied for years.
The French occupation of the Netherlands led to both Groningen and Leiden Universities being administered by the French. In 1812 both universities were coupled to the Imperial University in Paris. Groningen was lucky: the French administration had actually been planning to keep only a single university in the Netherlands, Leiden. However, a French inspection committee was charmed by Groningen and concluded that it was very far from Leiden. The University Museum has a beadle's staff from that period.
| | |
| --- | --- |
| Last modified: | 13 August 2021 3.17 p.m. |